On July 14th our nation is being called to a day of prayer, fasting and humble repentance. In Iowa, Governor Branstad has signed a proclamation inviting everyone who chooses to join in thoughtful prayer and humble repentance according to II Chronicles 7:14 to come together on July 14, 2014.
"If my people, who are called by my name, will humble themselves and pray and seek my face and turn from their wicked ways, then I will hear from heaven, and I will forgive their sin and will heal their land." 2 Chronicles 7:14  (NIV)
This is not a political event, but a solemn assembly and will be held from 7:14 am to 7:14 pm on the west side of the Capitol, across Finkbine St. It is not just about a single day, but realizing repentance is needed to awaken our hearts and turn our nation back to its biblical foundation. It is for the church to come together in unity, to humble ourselves, repent, forgive one another and seek His face for direction for our state and nation.Expect reading of the Governor's Proclamation, continual praise music, prayer, repentance and reading of scripture by scheduled speakers and times of silence for personal reflection.
Please join us at the Capital Grounds on July 14th and spend the day in prayer.
Date:  Monday – July 14, 2014
Location: Capitol Grounds – West Side
Time:  7:14 am to 7:14 pm
Rain Location: 1st Floor Rotunda in Capitol
Parking: See link below
*Feel free to come and go as your schedule permits
What to Expect:
Governor's Proclamation
Continual Praise Music
Prayer & Repentance by scheduled speakers
Times of Silence for Personal Reflection
Fasting – See link below (if you choose to fast )
What to Bring:
Something to sit on – blanket, lawn chair…
Something to drink – water, gatorade…
Bible
Resources:
Prayer 7-14-14 Bulletin
Iowa Capitol Parking Map
Iowa Capitol Parking Info
How and Why to Fast

Watch the video of Governor Brandstad signing the Prayer 7-14-14-14 proclamation.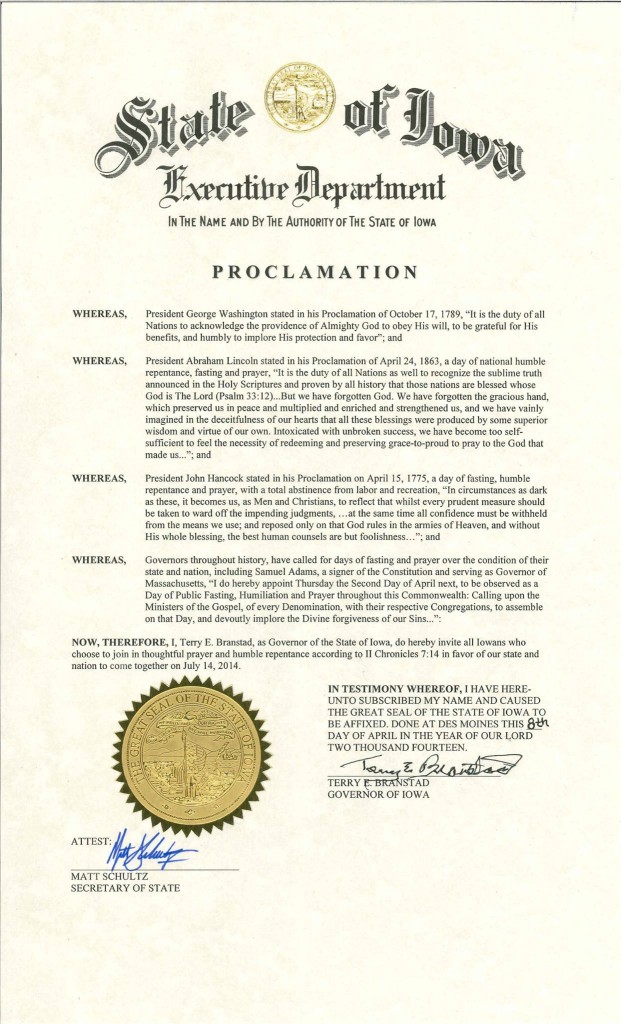 Share