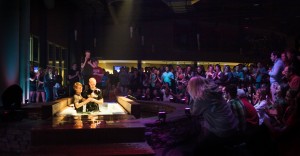 As the school year came to a close, The Salt Company put an exclamation point on the end of the year with another Anthem event. The event was designed to be an extended night of worship and prayer, drawing students to taste and see the greatness and goodness of God.  For two hours over 1,400 voices rose together in songs of praise and adoration.
Forty-one students testified to their faith as they were baptized that night.  In an incredible demonstration of the love and grace of God, student after student gave testimony to the power of the Gospel and a deep desire to be obedient followers of Christ.  The look of pure joy on every face as they came up out of the water was unmistakable.
Over the course of the school year God continued to move in and through the students of The Salt Company.  Many students crossed from death to life, others saturated themselves in the Gospel like never before, and some formed a strong sense of community. However God pressed into the lives of students, Anthem was the perfect opportunity to reflect and thank our God who deserves all glory.
Share