Editor's note: Baptist Global Response, the Southern Baptist humanitarian organization with which IMB partners, released $50,000 for initial relief efforts in the aftermath of Nepal's massive earthquake. This quick response provides hurting people with basic survival needs like water, shelter, food and healthcare. Your donations to BGR's Nepal Earthquake Response Fund will provide continued emergency response as needs rise in the disaster area.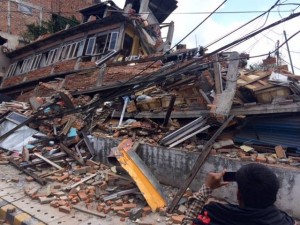 KATHMANDU, Nepal—Baptist Global Response (BGR) will partner with a local coalition of churches in Kathmandu to assess and fill needs in Nepal. The country is dealing with massive damage and loss of life after a 7.8 earthquake hit northwest of Kathmandu April 25. New outlets say the death toll has passed 5,000.
Francis Horton, Baptist Global Response area director for Central and South Asia, has met with a disaster relief committee formed from local congregations. Several members have received humanitarian crisis training from BGR and are eager to work with it and with other national and international organizations to conduct response work.
"We did a good bit of mapping today, looking at areas and strategizing on how to get out there and see what the needs are," Horton says.
Coalition members are also traveling with an assessment team as they examine heavily impacted areas outside Kathmandu. As locals, the members are helping the team navigate the area.
Horton says he and other relief workers will spend the next few days in areas near the earthquake's epicenter. BGR also has selected members for a Disaster Assessment and Response Team (DART) that will join Horton in the Kathmandu area over the weekend. Members plan to make contacts with local officials and leaders, determining the major needs that other organizations haven't targeted.
Horton says DART's work will focus, in part, on building local relationships.
"The DART team is going to be a key part of getting a good assessment … [and will determine] how the church in the U.S. might be involved in meeting some of those needs, partnering with local folks here in Nepal," he says. "That partnership is a key element—really essential in trying to meet the needs in appropriate ways.
As DART travels throughout the area, it will dispense some aid, as needed, before delivering an assessment report that will guide future BGR efforts. Horton also believes that as they travel, team members might be able to instill confidence and hope in local people.
"It's an overwhelming task, but it's doable," he says. "It's an opportunity that God has laid before us."
Horton asks people to pray for his team as members visit heavily affected areas. He asks people to pray for his team's safety and for its ability to determine how best to help the hurting. The team also needs to make strong contacts among the Nepali officials and community leaders.
Finally, he asks people to pray that fear will subside for earthquake survivors so they can begin to recover from the disaster.
DONATE: You can help with the response effort by donating to BGR's Nepal Earthquake Response here. Texting BGR to 80888 will donate $10 to that fund.
$10 will be added to your mobile phone bill or deducted from your prepaid balance. Message and data rates may apply. Must have account holder permission to donate and premium texting unblocked. Terms: igfn.org/t Privacy Policy: igfn.org/p Text STOP to 80888 to stop; Text HELP to 80888 for help.
Share