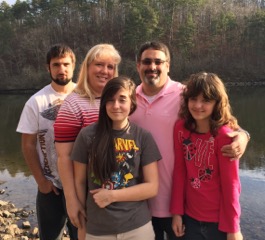 Pastor Jamie Cheramie came to Calvary Baptist Church in Glenwood in March, 2015.
He was born and raised in South Louisiana where he was saved at 14 years of age, called into the Gospel ministry at 16, and followed God's call to Criswell Bible College in Dallas at age 18. It was at Criswell where Pastor Jamie met and married the love of his life, Tasha Burbridge of Hot Springs, Arkansas.
After graduating from college in 1994 with a B.A. in Biblical Studies both Pastor Jamie and Tasha attended Denver Seminary in Colorado where they received their Master's Degree in Biblical Counseling in 1997.
Pastor Jamie loves being a pastor and has served churches in Louisiana, Texas, Georgia, and Utah before coming to Iowa. He strives to preach God's Word with power and conviction while making it relevant and applicable in today's culture.
He enjoys spending time with his family and anything that has to do with LSU Sports and the New Orleans Saints.  He is also a NASCAR fan – particularly when Jeff Gordon is driving. Pastor Cheramie is excited about what God is going to do through him and his family here in Iowa.
Share