By Dakota Jackson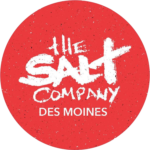 TOG, Theology Of the Gospel, is a 9 week equipping course for students in Salt Company that walks through the very basics of the christian faith and gives our students a basic understanding of some of the most important theological concepts of Christianity. We offer this course every semester and also make it a prerequisite for our joining the leadership team at Salt Company.
This semester in TOG we have been especially blessed with some incredible attendees who have made the class a real joy to teach. Justin Wetz, our worship director at Salt DSM, is teaching TOG for the first time and has been so encouraged by the conversations that are being had and the questions that are being asked by our students. "I never expected it to be this much fun!" Justin said after the very first class.
When we look at the TOG classes from last semester and this semester combined we can see how much God has truly blessed our ministry with a fantastic class of freshman and sophomores at Drake. We are only a couple of blocks from the Drake campus and we are so excited to begin to see a real presence of potential student leaders from Drake. We truly believe that the best way to reach students is through students so we are so excited to see the ways that God is going to use this class of Drake underclassmen to change the landscape of that campus with the gospel.
One of the gals that has been a faithful attendee of TOG this spring has been Janey. Janey has been such a joy to see grow in the short months that the class has been going on and we are so encouraged to see somebody beginning to truly understand the gospel and all of the implications of what Jesus did for her life. One class in particular stands out as being especially encouraging. The students were assigned to read 1 Corinthians 15:1-28 and Janey came in and was completely blown away by all of the evidence for the resurrection of Christ. "I had no idea that he appeared to so many people after he rose from the grave!" she exclaimed as we were unpacking the text together. It was so sweet to see how scripture is allowing her to gather a deeper and fuller understanding of who Jesus is and what he has done for us.
JoÃnna Davis, our women's ministry coordinator at Salt DSM, has also said many times how much of an encouragement Janey has been in the conversations that she has had. Janey was not extremely involved last semester in Salt Company so to see the way in which God is now changing and shaping her life in such a short period of time has been such a gift to watch. She has already applied to be a leader next semester and we could not be more excited to encourage her in the things that we see God doing in her life and how he might continue to use her for the expansion of his kingdom.
Share