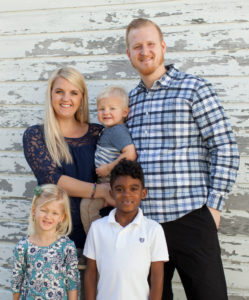 Christian and Stephanie Roth are Southern Baptists from Iowa who were recently appointed as missionaries by the IMB, honored at a formal ceremony with trustees, senior leadership, and family.
"God reconciling all peoples of the earth to himself and to one another was good news to two kids raised in broken homes," said Stephanie Roth. Reading about and meeting missionaries in person drew her to dedicate her life to missions as a teenager.
Her husband, Christian, said he learned the realities of a culture far from God while spending summers with his unbelieving father in Sweden. His heart was broken for the people of Scandinavia. Christian grew up in Cedar Rapids where God used Calvary Baptist church to save him while he was a student at Washington High School. He met Stephanie, who had spent her formative years of discipleship in Kansas, at Moody Bible Institute and they married after their junior year.
They then moved to Cedar Rapids to help start a small church plant. They have been there since 2009, leading small groups, teaching Bible studies, and serving in various ways. They stated, "Redeemer Church has been a flame for us, a place of warmth and comfort, burning refinement, and an igniter to see God's glory made known."
The church is sending the Roths to Scandinavia to share the gospel among the European peoples, primarily through starting new churches in Copenhagen, Denmark. By God's grace they will partner with Acts 29 in Copenhagen, launching a church called "New Song" in a couple of years. The mission of New Song is to "Hear God's Song and Shape God's World." The core theological vision of the church is inspired by Redeemer Church's distinct teachings and from the biblical passage Zephaniah 3:17, "The Lord your God is in your midst, a mighty one who will save; he will rejoice over you with gladness; he will quiet you by his love; he will exult over you with loud singing."
If you would like to pray for the Roths or be involved in what God is calling them to, you may contact them at 
cjchristianroth@gmail.com
.
Share