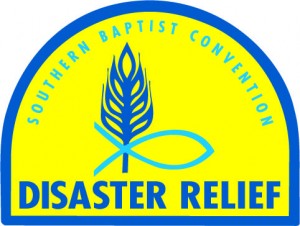 By Tim Lubinus, BCI Executive Director/Treasurer
The Baptist Convention of Iowa Disaster Relief ministry exists to help the hurting during a crisis. Ministries include chainsaw units to help clear trees after windstorms, mud-out units to help make basements usable again after floods, chaplains to share love and truth of the Gospel, feeding units and more. We are part of a greater Disaster Relief organization that is well known across North America.
We are grateful for Frank McCrary's service as Baptist Convention of Iowa's Disaster Relief director since the fall of 2014. Frank recently took a position with the Kansas-Nebraska Baptist Convention as their Disaster Relief Director and resigned on May 31, 2016.
In order to develop and expand our ability to respond to those in crisis, we've partnered with the Minnesota-Wisconsin Baptist Convention.  Dave and Jeanne Wedekind have served as their disaster relief directors for eleven years. We are grateful for the Wedekind's experience and this connection will better allow us to share our equipment and personnel resources across all three of our states. The Wedekinds are already making contacts in Iowa and will soon communicate ways to be involved in the Disaster Relief Ministry.
For more information or to volunteer contact them at jwedekind@mwbc.org.
Share