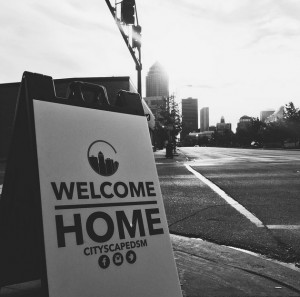 Cityscape is the latest SBC Church plant to officially launch in Des Moines, holding their inaugural service on July 12th at the Gas Lamp on Grand Ave. Pastor Cameron "Cam" Scott has planted this church  in the downtown heart of Des Moines to reach a group of people who might never consider walking into a "traditional" church. With an open, multi cultural and urban vibe Cityscape speaks a young urban population in a language that they can understand.
Cityscape started with the vision to change the culture of Des Moines. After spending a lot of time downtown, I quickly began to realize how much this city was in need of hope. So I prayed and discerned and the Lord made it very clear that it was time to start a church. Cityscape is passionate about 3 things: being RAW, being REAL and being RELEVANT. We believe that these 3 components allow for us to establish relationships and rid stereotypes that have been associated with the Church. Here at Cityscape we are all about creativity. We want to really push the creative boundaries with how we do our music, how we serve the city and how we do small group ministry. We also want to push multi-culturalism. We want to as much as possible have every nation, ethnicity or culture that is represented in Des Moines to be apart of our church. We believe that Jesus is for everyone and that our church should reflect that! In the next 5 years we pray that we will have established a very strong small-group ministry (we call it Crews). We believe that people should follow Jesus for themselves, but not by themselves. This is who we are. — Pastor Cameron Scott
Join us in prayer for this new church, that it may spread the Good News of Jesus to downtown Des Moines.
To learn more about Cityscape, go to their website at cityscapedsm.com.
Connect with them on Twitter: @CityScapeDSM.
Follow them on Instagram: cityscapedsm.
Share