What is Iowa COM?
Iowa Campers On Mission is a group of Christians that meet twice a year at a spring and fall rally, to grow the Lord's kingdom by providing no-cost labor to churches and Christian organizations throughout Iowa. Our goal is to enable small churches to prepare their buildings to reach their communities. We paint, clean, put up drywall, replace broken glass, etc. The Lord has blessed each of us with many different talents and gifts to serve our brothers and sisters as He leads. You do not need to be an expert carpenter, just willing to answer His call.
Do I need a camper?
No. You could sleep in the church or in a tent. You could commute if you live close enough to the rally. Churches provide electricity and water for the campers.
When?
Monday after Mother's Day for five days and the week after Labor Day for five days (or less if the work is done). These dates are adjustable to meet church and Campers On Mission needs. If anyone would like to help, but could only work a few days that would still be a great help.
Who can join?
Anyone who has a heartfelt desire to help spread the Good News of Jesus Christ through fellowship worship and labor.
What does the church provide?
The church provides material, paint, etc. for the jobs to be completed. The church also provides electricity for the camping units, a source of water, and access to a bathroom. We provide the labor.
For more information about joining Iowa Campers On Mission or having COM provide work at your church…
Contact:
Dennis Davis, 515-729-9983
Bev Davis, 515-729-9982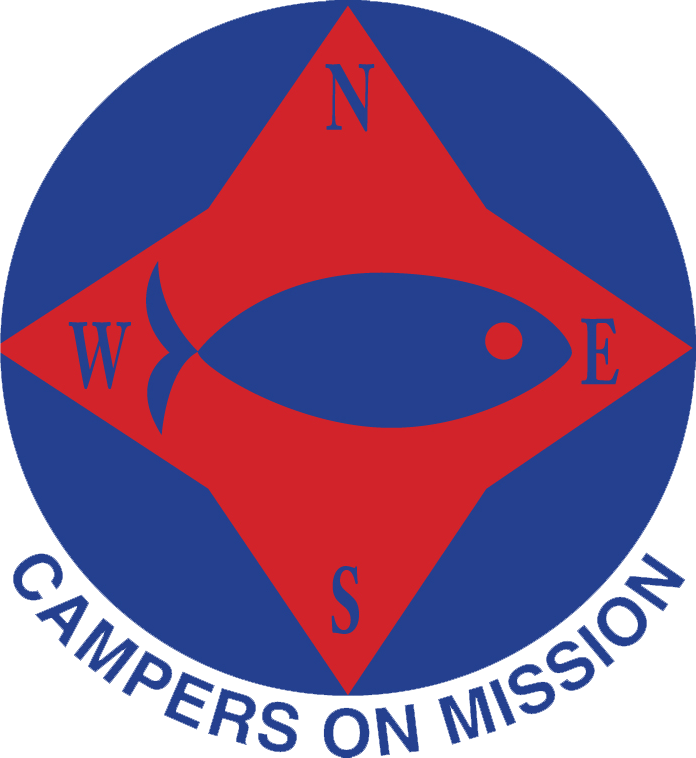 Campers On Mission Logo
The COM logo was designed to provide opportunities to witness about faith in Jesus Christ. The design, a fish encircled by a compass star, promotes conversation. The fish, and early Christian symbol, notes personal acceptance of Jesus Christ as Savior. The compass star symbolizes the expanse of God's creation and reminds members that wherever they roam God is present. The circle surrounding the design represents God's eternal existence and bountiful love for all people. The distinctive emblem allows members to easily identify one another so they  can join together in Christian fellowship "as they go."
Campers On Mission is a national organization with chapters in most states. This means opportunities to serve all over the United States. For more information go to CampersOnMission.net.
Campers on Mission and the Baptist Convention of Iowa are independent ministry organizations, both seeking to serve new and existing churches. The Baptist Convention of Iowa is grateful for the work that Campers On Mission is doing among our churches.
If your church building needs some work, contact the great people of Iowa Campers On Mission.
Share