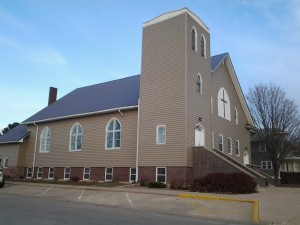 Cornerstone Baptist Church in Orange City recently completed some updates to their church building. This summer the church tackled a project of putting vinyl siding on the building. The project began with volunteer help from members of the congregation and the Baptist Builders. Towards the end of the summer, the job became more difficult for volunteers due to the height of the building. Generous donations from members of Cornerstone came in, which enabled the church to hire a local contractor to complete the job.  The contractor left just before the Thanksgiving worship service with the job completed. The timing was perfect to give God the glory and thanks publicly for His provision.
In Orange City, the church building has been used previously by two Christian Reformed congregations. When people in the community see that Cornerstone is taking good care of the older facility, it gives the church credibility in the predominantly Dutch Reformed town. Cornerstone hopes that the recent building improvements communicate to the community that the church is a place of life and vitality based on the life-giving gospel of Christ.
Another change for 2013 was that Cornerstone celebrated officially constituting itself as an autonomous congregation on Sunday August 18. The church began ministry back in 1996 in Sioux County as a mission of Southern Hills. However due to pastoral and location changes over the years, the church was never officially constituted. This has been a season of entering into maturity and adulthood as a church.  As Cornerstone looks back at 2013, the church body is thankful to God for the changes. May it all be for His glory and for the spread of the gospel in the community and to the nations.
Share