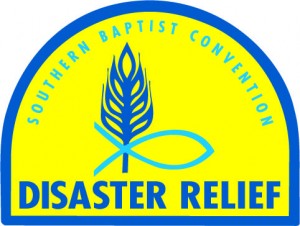 The mission of the Southern Baptist Disaster Relief Ministries is to, make a difference in times of disaster by connecting churches and associations to people and communities impacted by disaster and by responding with Help, Hope, and Healing, that demonstrates and shares the love of Christ.
Southern Baptists are one of the largest non-government organizations performing disaster relief services in the United States, ranking in the top three with American Red Cross and The Salvation Army. The North American Mission Board (NAMB) of the Southern Baptist Convention performs a coordinating role for the state Baptist conventions, where disaster relief volunteers are recruited, trained, and activated for service.
Disaster Relief is comprised of three basic areas: Disaster Relief Preparation, Disaster Relief Training, and Disaster Relief Response. The aim is to prepare, equip, train, and mobilize churches and volunteers to fulfill the Great Commission by meeting real needs and sharing the hope of Jesus Christ with those whose lives have been or will be affected by disasters.
Disaster Relief offers training to volunteers in areas such as mass care feeding, cleanup and recovery, temporary childcare, chaplaincy, and shower/laundry ministry. All volunteers are also trained in presenting the gospel in disaster settings. Further volunteer leadership training is also available for those desiring greater involvement in team and equipment management.
How can I get involved?
A good first step to getting involved is to attend one of our training sessions.  There you will learn the basics of disaster relief volunteerism, as well as receiving hands-on training in one or more areas of disaster relief.
Requirements to Volunteer
Any Southern Baptist adult or youth church member who meets the basic training requirements and desires to be a part of Disaster Relief ministries when a disaster occurs can volunteer.  (Youth volunteers, 7th – 12th grade, can ONLY respond to disasters within their home state.)
Southern Baptists National Response  Learn about how Southern Baptists across America work together in a disaster.
For more information about Disaster Relief contact Mike and Sheri Carlson by email:
Share