By Kristy Smith, Administrative Assistant at FBC Bettendorf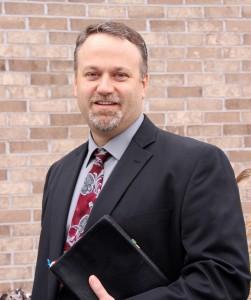 February of 2014 as Pastor Jim Perkins announced his retirement here at First Baptist Church of Bettendorf Iowa, Dr. Cory Gonyo and his family were beginning the prayerful decision of exiting the foreign mission field of Southeast Asia. As FBCB received and prayerfully narrowed down over 345 resumes to a final top few, Dr. Gonyo submitted his resume. He and his family arrived back to the states in August as Pastor Jim was exiting FBCB in September. We were blessed to call on our BCI Field Staff, Ed Gregory, to fill in as he and his wife had just relocated back to Iowa from Alaska. Shortly after Ed came Dr. Gonyo was contacted and accepted an invitation in view of a call and was then called as Pastor November 1, 2014.
Pastor Cory is originally from Wisconsin and moved to South Dakota to attend law school; this is where he met his future wife. He was 22 years old when he went to her Southern Baptist Church and was born again after hearing the parable of the four soils in Matthew 13. After earning his law degree he was called into ministry and immediately went to seminary. He earned his MDiv and later a DMin from Midwestern Baptist Theological Seminary in Kansas City. During the twelve year time he served at Grace Baptist Church, Vermillion, South Dakota, in a collegiate ministry and as associate pastor, sharing the Word of God with an emphasis on expository preaching. With a burden to share the Lord overseas, he and his wife along with their five children served as IMB missionaries in Southeast Asia from 2006 to 1014. After serving for eight years the news of ailing parents and a desire to have their children attend college in the United States brought them back home to the Midwest.
November 23, 2014 FBCB held an installation service for Pastor Cory receiving him as our fulltime Senior Pastor. Special guest speakers, Ed Gregory and Mike Roberts delivered the service message. Pastor Cory continues with expository preaching through the Bible here at FBCB, sharing God's grace, love and truth.
Share