by Nate Adams, Executive Director of the Illinois Baptist State Association
Bees are far more important than most of us realize. Known as models of cooperation and hard work, these buzzy, busybodies are the major pollinators in any ecosystem that contains flowering plants, and on every continent except Antarctica. As much as one-third of the human food supply depends on insect pollination, and bees are by far the leading contributors. A recent report estimated that bees, through pollination, add at least $15 billion to annual crop values in the U.S. alone.
That's why farmers, scientists, beekeepers and many others that should include you and me have become extremely concerned, as Timemagazine reported in a recent cover story. Since 2006, millions upon millions of bees have been dying at mysterious and alarming rates from something that has now been dubbed CCD or "Colony Collapse Disorder."
In short, something is causing a breakdown in the cooperative system that helps bring food and life to us all. And unless we can cooperate ourselves to help find a solution, we may all be in trouble.
Like bees, Southern Baptists have always depended, and thrived, upon cooperation. We do not have a church hierarchy or uniformity that forces us work together. Yet, with God's blessing, we have become the largest Protestant group of churches in America, and have fielded perhaps the world's most expansive and effective missionary force.
There are signs across the SBC, however, that some churches are acting more and more independently in their missions strategies and with their missions resources.
Cooperation, some say, is more fashionable among older generations and among smaller churches. If that's true, it's possible we are facing our own form of CCD, or perhaps we could call it "Cooperation Collapse Disorder."
To overcome it, we must remain vigilant to understand and teach in our churches why cooperation is biblical, and so important. And we must make sure new believers and new generations clearly see the unique benefits of that cooperation, both to ourselves and to the world.
I see at least four foundational reasons that churches decide to look beyond themselves and cooperate with other churches.
Shared belief in biblical, Baptist doctrine. There are many ways that Baptist doctrine is distinct, and leads to different conclusions and behaviors, than we see among many other Christian groups. This shouldn't necessarily lead us to isolation. But we should cooperate with the greatest passion, sacrifice, and effectiveness with those who share our deepest convictions.
Common commitment to evangelism and missions as priorities. Without a doubt, the high calling and common cause that unites diverse Baptist churches in cooperation is the Great Commission of Jesus to make disciples of all the world's peoples. I sometimes marvel at the different styles and cultures I see in Baptist churches. But when it comes to evangelism and missions, we are all on the same page and speaking the same language of passionate commitment.
Trust in a cooperative missions system. Some churches practice "societal missions," where individual churches sponsor individual missionaries. And while we can be grateful for every missionary that is faithfully delivering the Gospel, Southern Baptist churches have learned that trusting the accountable processes and people of a "cooperative missions" system is much more powerful and effective in getting missionaries and the Gospel to the world.
Fellowship of an extended family. Something very special happens when churches that share the same, deep biblical convictions prioritize the Great Commission together and trust one another within a cooperative missions system. They become an extended family, and not just over the miles but over the years. Through cooperation, we join generations that have preceded us, and generations that will follow us, in a Great Commission purpose.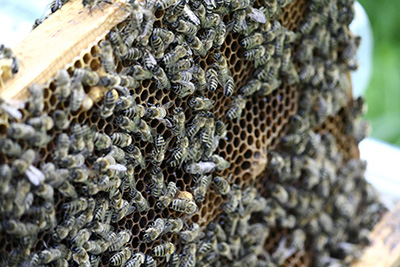 In their recent cover story, Time magazine referred to the crisis of the dying bees and the loss of their cooperation in food production as the "beepocalypse," and indicated that some even saw it as a sign of the world's end. If we worker "B's" known as Baptists will put a new "buzz" in our hallmark of cooperation, we can give the world a much more hopeful outlook.

Nate Adams is executive director of the Illinois Baptist State Association. This article was originally published in the January edition of the Illinois Baptist. Reprinted with permission.
Share