by Chris McRae, BCI Discipleship Team Leader
Along with four other young men, Jim Elliot waited on the banks of the Curaray River deep in the rain forest of central Ecuador to make contact with members of a tribe of natives who had been cut off from modern civilization. They were the Huaorani — also known as the "Auca", the Quichua word for "savage." The reputation that preceded these tribesmen was that of brutal Stone Age killers who feared and hated outsiders. The date was January 18, 1956.
In the many months leading up to this auspicious Sunday afternoon, plans and preparations had diligently been made. Each man in his own way had answered the call to follow their Lord and Savior Jesus Christ. Their mission was to take the Gospel message to those who had never heard it before. Their passion for Christ grew into a love for these people. They had studied the culture and the language. They had made initial contacts which had seemed friendly. They committed themselves to God's sovereign care, in awe of his protection and provision. They joyously sang together the old hymn:
We rest on Thee, our Shield and our Defender,
We go not forth alone against the foe,
 Strong in Thy Strength, safe in Thy keeping tender,
We rest on Thee, and in Thy name we go.
Before 4:30 that afternoon, Huaorani warriors had descended on the encampment and slaughtered the five men. Their bloodied bodies were later found downstream from the site of that initial contact. Time magazine had regarded the incident as "a nightmare of tragedy."
What the world didn't know and could not have understood was that seven years earlier, in his dorm room at Wheaton college, Jim, perhaps reflecting on Luke 9:24, had written in his journal, "He is no fool who gives what he cannot keep to gain that which he cannot lose."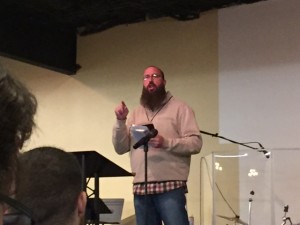 He is No Fool! was the theme of this year's Men's Conference. Cornerstone Community Church in Chariton, Iowa invited the Baptist Convention of Iowa to partner with them for this event. For the second year, this conference featured Casey Bradford as the main speaker. During three main sessions Casey shared from the conviction that God's Word changes lives. He started the weekend off by observing that there is wisdom in learning the counter-intuitive truth that winning comes in losing self — by following Christ.
Times of worship and prayer were passionately led by Brent Minter and friends out of Westwind Church. They led the gathering to engage with God on a personal level through songs, hymns and spiritual songs. Though men often will not typically get absorbed in singing, Brent did well to bring a fresh exuberance and willingness to engage the men where they were and lead them to the place of grace.
Over 240 men participated in the two-day event. Though primarily from the Chariton area, many others were in attendance from more than a dozen churches around Iowa and beyond, even pulling from across state lines. The men were challenged, encouraged and exhorted to live lives transformed by the power of God's Good News. Each of the breakout sessions featured teachings drawn from the theme of "He is No Fool Who…" These were led by pastors, BCI leaders and others who have years of ministry involvement and life experience to train men in the practical aspects of living as a godly man in their family, in their church, and in the community. Additionally, there was a brief appearance by Pastor Rafael Cruz who shared his testimony of faith in Christ and challenged the men to be engaged in bringing the Light of the gospel into the public arena.
The BCI is committed to ongoing participation and partnership with churches seeking to minister to their church and community. Several pastors from around the state have asked about connecting with others in this area of men's ministry. We look to expand such opportunities in the coming year and will begin planning for 2017 in the near future. If there are any churches that would like to join in this endeavor, please contact Chris McRae at the state office or on his personal cell number 515.505.0591.
Share