By Pastor Gene Stockton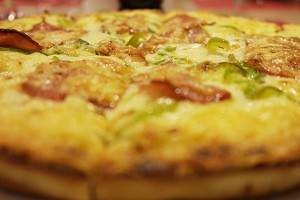 Have you ever made homemade pizza? What about making homemade pizza with 5 grandchildren under the age of 5? In any case, Cheri and I were scheduled to hang out with the grandkids on a Friday evening, so Cheri planned a homemade pizza night. We placed the grandkids around the table and then positioned all of the ingredients on the table including the pizza crust (individual size). As Cheri and I made our pizza, we explained what we were doing. The grandkids watched what we did and then separately made their own pizza.
Now you have to remember there are three 4 year olds and two 2 year olds in this group. Just to give you and idea, we ended up with pizza with a double layer of pepperoni. Needless to say, Drake loves pepperoni. On the other hand, Joey may have had 3 pieces of pepperoni on his pizza but a mound of cheese. In comparison, the three young ladies (Emma, Annabelle and Braelyn) took longer making their pizza and their presentation actually resembled a pizza. Yes, their ingredients were inside the edge of the crust (for the most part). I'm thinking, if their parents continue baking cookies with them and grammy and grandpy have a few more pizza parties, these young ones may grow up knowing how to cook for themselves. And who knows, one or two of them may own a pizza franchise.
In the process of a very fun night with the grandkids, it hit me that the process we used to teach these young ones how to make homemade pizza, is how Jesus and Paul made disciples. How is that you ask? As Dr. Howard Hendricks records the process of making disciples, it goes like this:
1) Tell them what
2) Tell them why
3) Show them how
4) Do it with them
5) Let them do it
6) Deploy them
As you might have already concluded, this process will work teaching your teenager how to trim the lawn or wee ones how to make cookies (or something resembling cookies). Regardless of the project or task (including making disciples), we teach, demonstrate, share, oversee and then give them the project. As you might imagine, we're not ready to give the oven over to the grandkids for unsupervised use; however, after a couple more pizza nights we can begin to skip steps 1 through 3. Even better, as they age and gain knowledge they'll make pizza for me.
On a more serious note, Jesus has clearly commanded us, and He has the authority to do so, in Matthew 28:18-20 to make disciples. He started with the 12 and the process continues today. Well, you might say it is continuing today. That is, with a remnant here and there around the globe. It's painful to say but most Christians and a large majority of churches aren't making disciples. Are we ignoring Jesus' command? Do we lack good teachers and role models? Are we distracted? Are we too busy? What is it? What about you? Comparatively, I'm going to be very disappointed if my grandkids can't make their own pizza in a few years. I'm going to be even more disillusioned if my kids and grandkids can't or won't make disciples.
A Work in Progress,
Pastor Gene
Gene Stockton is pastor of Heartland Community Baptist Church in Sioux City.
Share