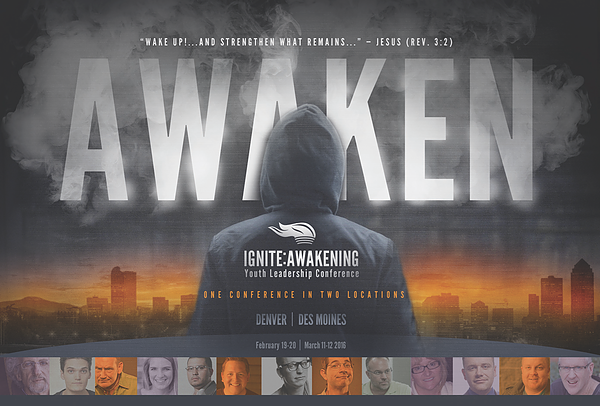 2016 marks the twelfth year of Ignite Youth Conference in Des Moines, Iowa. But it was a year of firsts as well. February of 2016 marked the first time the conference convened in Denver, Colorado. And as the initial excitement gave way to an incredibly glorifying weekend, Ignite Founder Jonathan Meyer (Grace Church, Des Moines, IA) knows that God is still working.
"More than any other year, there is a sense that God is up to something amazing with this year's conference", Meyer says. "And we caught a glimpse of it in Denver.  We believe God's desire is for His children to 'Wake Up….and strengthen what remains.' (Revelation 3:2)."
Ignite Youth conference thrives on developing student leadership in relevant and engaging ways. In the same vain, the central desire of youth workers and leaders to develop and instruct their students makes for the perfect conference setting. Ignite is all about students becoming bolder with their faith, and youth leaders giving them the practical tools to do so.
"When it comes to student leadership, we can provide the training but we can't make students want to lead," says Meyer. "When it comes to an awakening, we are praying for one, but we can't make the hearts of the people want it, that is God's job."
Student leadership, volunteer equipping, ministry strategy and evangelism and outreach are the cornerstone's for Ignite's keynote and breakout sessions. Regardless the level of experience in ministry leadership or training, the speakers brought to Ignite intentionally guide attendees through Biblical principles that foster growth. It is with prayer and devotion to God that Ignite 2016 is set for an awakening.
Share