The Blue Sky Project is a new program recommended by the North American Mission Board (NAMB) Disaster Relief (DR) Leadership that combines the use of Disaster Relief (DR) equipment and on-the-job training for DR volunteers in times when there are no disasters.
By Frank McCrary, Director for Iowa Disaster Relief
In July, Winterset DR volunteers took the state convention's feeding unit out of moth balls and displayed it's capabilities at FEMA's Faithful Readiness Workshop in Omaha, Nebraska. Also, DR volunteers from the Glenwood Church setup the new shower/laundry unit in Eldora to provide showers for RAGBRAI bicyclists. Shari Carlson is the coordinator for the Blue Sky events.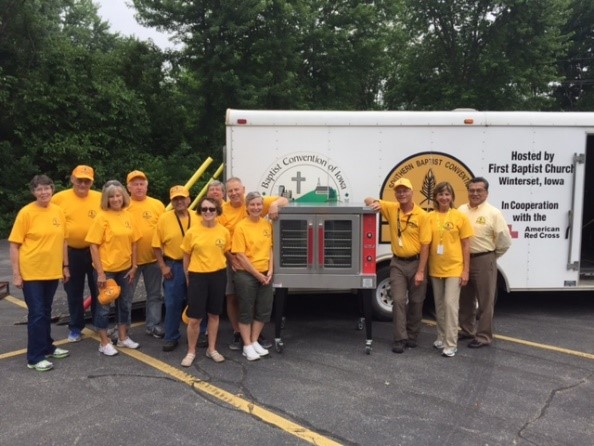 Positive Impact
The Winterset volunteers setup the mobile feeding unit in Omaha and cooked a meal that is typically served to disaster victims and DR volunteers. Disaster response workers from government and faith-based organizations were impressed with the capabilities of our equipment and the quality of the meal our team prepared. Iowa's unit has not been called out since 2008. However, American Red Cross (ARC) and FEMA leaders said they would include our unit in future disaster responses.
The state convention's newest unit, shower/laundry, made its debut in Eldora, Iowa. RAGBRAI officials invited our team to provide showers for the bicyclists. Our shower unit was well advertised and located on the main road through Eldora. Our shower unit received favorable reviews. Some compared our unit to the commercial shower units and said they preferred ours. Many of the cyclists asked if would be setup in the rest of the overnight towns. We told them, "no, but maybe next year."
The shower unit was deployed afterwards to Creston, Iowa to support a mud-out team that was cleaning up flooded basements.
Availability
All of the state owned units are available to all churches in the state for training volunteers and providing support for mission teams, associational meetings, and other church related activities.
If you are interested in becoming a DR volunteer who would like to make a difference in the DR effort – we always need help.
For more information, contact:
Frank McCrary
Director, Disaster Relief
Baptist Convention of Iowa
iowaSBDR@gmail.com
(402) 681-7213 (cell)
Share