For more than twenty years Lacona Baptist Church has met in an old store building on Main Street in Lacona. The LORD recently enabled us to purchase a church building in the nearby town of Melcher-Dallas. It is a simple block structure 60 x 30, with a full basement, off street parking, space for expansion, a recently painted exterior, a five year old roof, and central heat/air. The interior needs some remodeling but after that is done we'll have an attractive building that should be easy to maintain.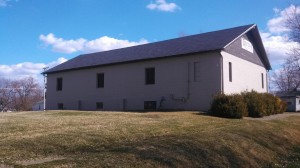 We are a very small congregation and would greatly appreciate volunteers who can help us in the following areas:
Drywall installation/finishing

Cement work
Window replacement
Painting
Laying ceramic tile on the basement floor
Installing new kitchen cabinets
Cleaning and polishing oak floors in the sanctuary
Moving items from Lacona to Melcher-Dallas
Melcher Dallas is a town of 1500 people. The county seats of Knoxville and Chariton are both within 15 miles, and Pleasantville is only 9 miles. We believe God can use us to reach this area and be a strong witness in the community.
The name of the new congregation will be "City on a Hill (SBC)". Inspiration for our name comes from Matthew 5:17 where Jesus reminds us to embrace a place of prominence as witnesses that can't be hidden… Matt 5:14 "You are the light of the world. A city built on a hill cannot be hidden. 15 Neither do people light a lamp and put it under a bowl. Instead they put it on its stand, and it gives light to everyone in the house. 16 In the same way, let your light shine before others, that they may see your good deeds and glorify your Father in heaven. 
If you're available to help in any way please email Pastor Rob Porter at rporter34@mchsi.com or call at (515) 770-3098
Share