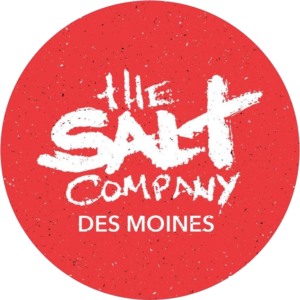 By Dakota Jackson
This month God did some incredible things through our ministry here at The Salt Company Des Moines. At the start of the month we had our annual fall retreat. We saw over 50 students give up their weekends in order to come out and learn more about the incredible Fatherhood of God and to grow deeper in community with one another! We had the honor and privilege of having Pastor Rechab Gray lead us during the retreat going through Luke 15 and the story of the prodigal son. Rechab gave some incredibly inspiring and convicting messages that resulted in some great conversations from the students and their small groups. We had many students express to us how much of an impact the messages had on them and the weekend as a whole.
One of the most encouraging things coming out of the weekend was the fact that many of the groups are now much closer than they were at the beginning of the year. The retreat was a great time for some people to get vitally connected to a group that they may not have attended since the beginning of the semester. Much of this community building came from the small group times, led by our fantastic leaders, but I would say most of it came from the time that our students got to spend together, making some really strong memories and bonds. There were dodgeball and volleyball tournaments happening, late night glow in the dark capture the flag, and some great spontaneous games that broke out during free time. These are things that really build relationships when paired with the authenticity that comes from being at a fall retreat together.
One of the biggest ways that God showed his grace to us during this fall retreat weekend was to be able to celebrate one of our students coming to know and accept Christ as his Lord and savior! This student's name is Austin and he has been involved with Salt DSM for a while but expressed that he always came to church because it was something that he could do to fit in and make connections in his circle of friends. The gospel and the amazing love that God has for us as his children became so evident to him while we were on our Fall Retreat that he gave his life to Christ and is already showing the fruit of now being connected to the true vine.
Austin is now planning on being baptized this upcoming month and will get to celebrate with Salt Company through this public declaration of his faith and trust in Jesus. We are so encouraged by the work that God is doing in his heart and in his life that we cannot wait to see him take the step of obedience in being baptized. There is no greater joy in all of ministry than seeing somebody who was dead in their sin understand the life and love that is theirs in Christ. We are praising God for his incredible work in Austin!
Share