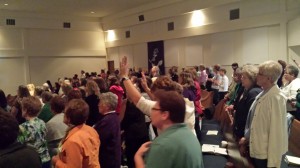 Linda Smith, New Bridge Church, Winterset
The Beth Moore Living Proof Simulcast hosted by New Bridge Church, Winterset, on September 14 was a success!  All glory goes to the Lord for the participation of 165 women from central and southwest Iowa.  Beth provided insight and inspiration on the topic of allowing GRACE to cover our lives and our relationships. The Lord certainly blessed all the work of the leaders and their teams in the areas of hospitality, music, technology, prayer, planning, and food preparation.  From those who attended, 70 evaluations were returned in which 19 women recommitted their life to Christ and 17 indicated making a decision in other areas with comments such as "Load lifted" and "Refreshed!"  To hear more from Beth Moore, you can visit her blog at blog.lproof.org.
To investigate her Bible studies, CDs, and books, visit http://www.lifeway.com/n/Popular-Authors/Beth-Moore.
Share