The Pastor's Conference of the Baptist Convention of Iowa hosted a Minister and Spouse Retreat March 28-29 in Des Moines. After opening the weekend in prayer. Pastor John Jakes of Calvary Baptist Church in Indianola invited the over 50 ministers, spouses and guests to fellowship and share a meal. Dr. Tim Lubinus, the new BCI Executive Director, was introduced to the participants by BCI President Lloyd Eaken.
In his address, Pastor John Taylor Sr. of Rock of Ages Baptist Church in Dubuque challenged those in attendance to explore the roles of a disciple as outlined in 2 Timothy 2:1-24.
The guest speaker for the retreat was David Watson, who serves as the Vice President of Global Church Planting with CityTeam International, San Jose, CA. His primary responsibility is to catalyze Disciple Making Movements (aka Church Planting Movements) in difficult to reach people groups, cities and countries around the world. The primary methodology used is the training of local leaders in Disciple Making Movements, which includes evangelism and disciple making, church planting, leadership, church planting strategies and church planting movements. God has used the leaders David trained to start over 100,000 churches in the past 15 years, and more than 4 million people have been baptized as a result of God's moving in the areas where trained local workers have devoted themselves to God's work.
David Watson challenged those in attendance to rethink how we do church planting in order to reach the lost, saying that some people who reject our church culture may be open to getting to know Jesus. "My job is not to transfer religion," David stated, "my job is getting people to fall in love with Jesus."
"People don't need our church culture, but they do need Jesus," said David, "the best way for them to learn about Him is through reading and studying God's word in the Bible." David explained a Bible study and church planting system that he calls the "Group Discovery Bible Study," which he has used around the world to bring millions into relationship with Christ.
David works with local leaders to form groups of unbelievers who are willing to learn more about the Bible. The local leaders are trained in the Group Discovery Bible Study process, and then they lead their group through a series of Bible passages that takes them from Creation to knowing Christ. The list of scriptures that David uses in this study can be found on his website www.davidlwatson.org.
The Discovery Bible Study Process involves having group members read a Bible passage, having people restate the passage in their own words, and asking a series of questions about the passage. These questions include:
Did anything in this passage capture your attention?
What did you like about this passage?
Did anything bother you? Why?
What does this passage tell us about God?
What does this passage tell us about Man?
What does this passage tell us about living to please God?
From the very first meeting the leader guides the group in a process that has the core values of a church. David calls these core values the DNA of the group. This can best be understood at his new website www.contagiousdisciplemaking.com in an article titled The DNA of Discovery Groups. One of the core values that is introduced to the group from the very beginning is the need to tell others about what they are learning from the Bible. When this is emphasized from the beginning leaders rise up from the group to start new groups. David calls this Contagious Disciple making.
David told the Iowa ministers that Contagious Disciple Making can be used to start new groups here in Iowa just as successfully as it has been used in parts of the world that are much more hostile to Christianity.  David has a book coming out later this year titled Contagious Disciple Making if you would like to learn how to use this process in your setting.
At the close of the Minister and Spouse Retreat, Pastor John Jakes of Calvary Baptist Church in Indianola was elected as president of the Pastor's Conference for 2014-2015, and Pastor Eugene Guthrie of Crestwood Baptist Church in Des Moines was elected as vice president.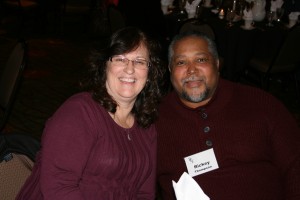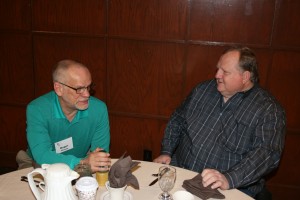 Share