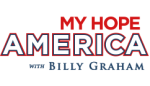 Today there is a unique opportunity for encouraging spiritual awakening. This unique opportunity is the "My Hope America with Billy Graham" emphasis scheduled for this November.
It is a nationwide emphasis by the Graham Organization that powerfully intersects with prayer for spiritual awakening. The bottom line is clear, it mobilizes believers and churches to pray for lost people, develop a relationship and invite them to see a video or live television presentation of the Gospel.
History confirms the combination of praying for lost people, preaching and sharing the Gospel has been key to all spiritual awakenings. The Baptist Convention of Iowa Evangelism Team encourages every believer and pastor to prayerfully consider strong involvement in this nationwide emphasis. For several months, the Graham Organization has been sending My Hope postcards to pastors and church leaders throughout Iowa. I deeply encourage every Iowan to go to the following website for full information and simple online training (http://myhopewithbillygraham.org). The Evangelism team of the Baptist Convention of Iowa is also providing training to anyone requesting training. Contact Ty Berry (tberry@bciowa.org).
Listed below are some key excerpts from "My Hope with Billy Graham":
About My Hope
"My Hope America with Billy Graham" is a nationwide effort to reach people across America with the Gospel of Jesus Christ. Following a simple biblical model, "My Hope America with Billy Graham" combines the impact of video programs with the power of personal relationships. Under the guidance of their local pastors, Christians across America will open their homes this November to share the gospel message with friends, family, colleagues and neighbors using one of several new evangelistic venues featuring life changing testimonies and powerful messages from Billy Graham.
The majority of our neighbors face each day – with its fears, uncertainties, and pain – without the lasting hope that comes from knowing Jesus Christ. And with each day that passes, we're losing so much more than time; we're losing our neighbors. On average, 6,700 die each day. Our work is urgent. Will you join us in prayer, so that together we can reach our nation with the Gospel, before it's too late?
Things to Pray
• Pray that we as the church will reach out to those around us and God will use "My Hope with Billy Graham" to draw many people across our nation to Himself.
• Pray that, as Christians, God will renew our Love for Him.
• Pray that our Love for the Lord would stir up in us a desire to bring our friends, neighbors and family to Christ.
• Pray that pastors across the nation will experience a special burden for our Father's concern for evangelism.
• Pray the Holy Spirit will lead us to the right My Hope coordinators for America.
"If my people, who are called by my name, will humble themselves and pray and seek My face and turn from their wicked ways, then I will hear from Heaven, and I will forgive their sin and will heal their land." (2 Chron. 7:14. NIV)
Check out the training opportunities in your area and gather your leaders and attend this one hour training event. If you do not see training in your area, please contact Ty Berry (tberry@bciowa.org)
Share