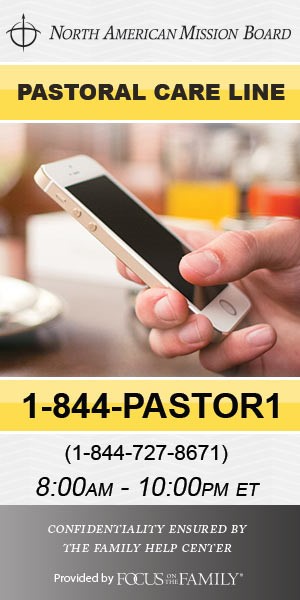 Background  
The daily stress and pressure of serving as a Pastor and/or Planter are frequently brought to the attention of the North American Mission Board staff.  Research verifies that over time these daily pressures take their toll on Pastors, causing discouragement, frustration and even clinical depression.  We hope to help alleviate this stress for our Pastors.
NAMB Dedicated Pastor Care Line for SBC Pastors – 1-844-PASTOR1 or 1-844-727-8671  
In response to this need, NAMB has entered into a ministerial partnership with Focus on the Family's Family Help Center to provide a dedicated Pastor Care Line for all SBC Pastors.  The dedicated line is 1-844-Pastor1 or (1-844-727-8671).  It will launch on October 1, 2014.  The dedicated line will be completely secure and confidential.   Neither NAMB nor the pastor's church will ever be given the name of any Pastor calling the Pastor Care Line.
NAMB understands that Pastors are not immune to the issues that plague people in our fallen world.  We desire to enhance our support for SBC Pastors through a Care Line that will provide professional-level and biblically sound guidance regarding personal and family issues Pastors may find themselves dealing with from time to time.
Focus on the Family
Through their Family Help Center, Focus on the Family has provided a Pastors Care Line for hurting Pastors since 1992. The Family Help Center is configured to handle all inbound phone calls with a live-answer employee/agent who discerns the specific needs of each caller, and then provides appropriate help in various forms.  Based on the pastor's need, additional support may be provided as deemed necessary by the trained chaplains and counselors on Focus' staff.  Focus on the Family is an excellent ministerial partner for NAMB and we are both excited to minister to Pastors in this special way.
Share