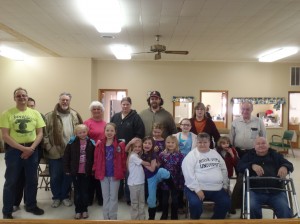 In 2009 Temple Baptist Church in Mason City, barely 25 members strong, stepped out in faith to provide a unique service for their community, a Food Pantry – free of charge and no strings attached.
It started with a challenge to, "Find where God is working and join Him."  This was the seed that blossomed into a ministry that not only has served the community, but the community has given back in turn.
The Baptist Convention of Iowa and other local churches have helped by donating canned goods and monetary support.  The church members have supported the Food Pantry with their time, money, prayer support, and their vehicles to collect meat donations from Armour Eckrich and to pick-up groceries for the Food Pantry.
A local Girl Scout Brownie troop, #20,015, has become involved in helping with the Food Pantry as part of a community service project.  They help pack boxes, hand out numbers and recollecte them after the Food Pantry guests have spoken with a member from the church.  The Food Pantry guests do this to update prayer requests and to tell how God is working in their lives.  There have only been a few times when someone has refused to pray with a church member.  The guests still received their box of food, no strings attached.
In the four years that the Food Pantry has been established they have fed approximately 4,800 members of the community and given out over 2,000 boxes of food.  On paper this doesn't look like a lot but it is a start and the best part is this, that there are no strings attached to what God can and is doing through this ministry.
Share