by Roy Hayhurst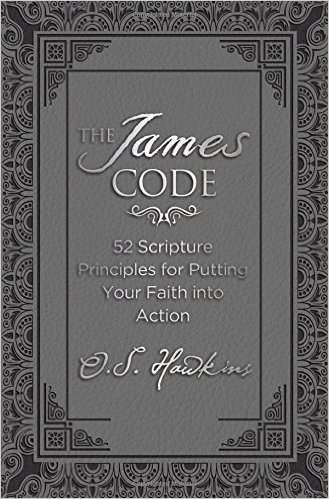 DALLAS — Perhaps no book in all the Bible has created quite the allure and controversy as the New Testament epistle of James. The book by Jesus' half-brother, the natural-born son of Joseph and Mary, was famously derided as an epistle of straw by the great church reformer Martin Luther, but, while many have tried to make the argument that the book's emphasis on works is at odds with Paul's writing on justification by faith alone, GuideStone President O.S. Hawkins says James and Paul are actually in accord.
In The James Code: 52 Scripture Principles for Putting Your Faith into Action, Hawkins uses the illustration of the Dead Sea and the Sea of Galilee on the eastern edge of Israel as an example of the works that flow out of faithful believers.
"Vibrant believers not only take in, but they also give out," Hawkins writes. "They put the Word they receive (input) into action (output). Yes, they become 'doers of the word, and not hearers only.'"
The James Code, like Hawkins' earlier books, The Joshua Code and The Jesus Code, is published by Thomas Nelson. All author proceeds for all of Hawkins' books benefit Mission:Dignity, the GuideStone Financial Resources ministry that helps retired Southern Baptist pastors and their widows in serious financial need.
"So often throughout Christian history, we find ourselves ringside as theologians and teachers try to pit Paul and James in a prize fight," Hawkins said. "Using the analogy of a boxing ring, it's like they place Paul in the "grace" trunks and James in the "works" trunks.
"The reality is, James and Paul aren't at odds; they are saying the same thing."
Hawkins cites Paul in Ephesians 2:10, which says, "For we are His workmanship, created in Christ Jesus for good works," and James 1:18, which says, "Of His own will He brought us forth by the word of truth."
"It's not about faith or works, or faith and works, but about a faith that works," Hawkins said when describing the kind of faith James and Paul both wrote about. "That's the kind of faith that the early church had, and it's the kind of faith we in the modern church need, too."
The books are a labor of love for Hawkins, who has served since 1997 as GuideStone's seventh president and prior to that served for a quarter-century in pastorates in Oklahoma and Florida before leading the historic First Baptist Church of Dallas for four years prior to his tenure at GuideStone.
While the churches he pastored — from farming communities to cosmopolitan centers — were each different, the reality is that he learned that the pastorate is about the people business and that all people, regardless of time or place, desire practical help in living out their faith. The book of James, written nearly two millennia ago, is as relevant today as it was in the days James originally penned it.
"For most of us, the challenge is not in knowing what Christ calls us to do, but it's actually in doing it," Hawkins said. "The challenge is practicing with our lives what we know in our minds and proclaim with our lips.
"Throughout the book of James, we are reminded that when we walk in the Holy Spirit, we will not be wearing out the seats of our pants, but the soles of our shoes."
The James Code is divided into 52 chapters, allowing individuals, churches or small groups to study the book week-by-week for an entire year. Those 52 chapters are divided into 12 subsections, meaning it could also be completed over a 12-week series.
The James Code partners with The Joshua Code and The Jesus Code in helping Christians live out their faith, Hawkins explained.
"There are really only three relationships we have in life: an upward relationship, an inward relationship and an outward relationship," Hawkins said. "The Joshua Code deals with the upward relationship, our relationship with the Creator of the universe. It's what separates us from all the other created order. We have the capacity to enter into a relationship and know God in the intimacy of father and child. Bottom line, we're never properly related to each other or ourselves unless we're properly related to God through Jesus Christ. The Joshua Code helps convey that through the study over those 52 chapters.
"The Jesus Code has to do with our inward relationship. The Bible says we are to give an account for the hope that is within us. That book is designed in almost an apologetic way, helping people answer questions common to Scripture and common in our world today.
"Once we are properly related with God, then ourselves, The James Code comes along to speak to the outward expression of our faith."
One of James' most famous admonitions, that pure and undefiled religion in the eyes of God is to care for widows and orphans in their distress, isn't lost on Hawkins, who donates all of his proceeds to Mission:Dignity.
"We're on a mission to bring dignity to these retired pastors, and now, 60 percent of the people in our program are widows, with an average age of 85. One widow wrote to us and told us, 'I get to eat tonight now and it's not just a piece of toast.' That's a blessing as we put feet to our faith and care for these pastor widows in their declining years."
The James Code is available at most bookstores and through popular online retailers. Visit OSHawkins.com for more information.
Roy Hayhurst is department head of denominational and public relations at GuideStone Financial Resources of the Southern Baptist Convention
Share