By Tim Lubinus, BCI Executive Director/Treasurer
Each year the Baptist Convention of Iowa sponsors a weekend for pastors from across Iowa to gather together for fellowship, learning, worship, and an opportunity to get some extra time with their wives.  This year ninety people gathered together for the retreat on April 1-2 in Des Moines.
Worship for each session was led by group from Cityscape Church in Des Moines . We are grateful for their service during the conference and for their preparation and set-up.
Those in attendance heard from seven of our church planters. Each gave a brief introduction of themselves, their churches, and some of their church's distinctives. The pastors who spoke were Cameron Scott of Cityscape Church in Des Moines, CJ Nissen of Capitol City Church in Carlisle, Cole Dieke of Frontier Church in Des Moines, Mark Scott of Hossana Church in Des Moines, Andy Norris of Cottage Grove Church in Des Moines, Richard Crowson of Redemption Hills Church in Sioux City, and Matt Yoder of Stonebridge Church in Boone.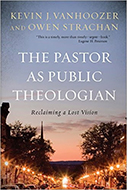 The theme of the retreat was based on the conference speaker, Dr. Owen Strachan's book: Pastor as Public Theologian: Reclaiming a Lost Vision. Dr. Strachan, who is an associate professor of Christian Theology at Midwestern Baptist Theological Seminary, led three sessions that each explored an aspect of a pastor as public theologian. Session one described the identity of the pastor as public theologian, session two described the history of the pastor as public theologian and session three listed seven practices of a pastor as public theologian.
Dr. Strachan emphasized that any pastor's role is as a theologian, someone who makes biblical truth understandable to the whole church. Each pastor must actively pursue disciplines like deep training, reading, prayer, ministry, and fellowship to develop personally and continue to have impact on his congregation and community.
I'd like to thank Eric Seever for his work coordinating the logistics for the retreat. Also on behalf of the staff of the BCI, I would like express how grateful we are to the pastors and their wives for their service among the BCI affiliated churches across our state.
Share