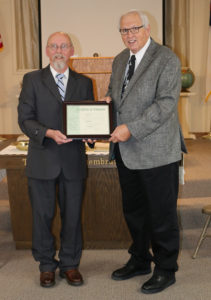 By John Shaul, BCI Pastor / Church Support Staff
Pastor Jim Fisher at First Baptist Church Lamoni was ordained to the gospel ministry on Sunday May 22. Representatives from
other South Central Iowa churches attended the service. He and his wife Charlene have been serving at First Baptist for the last several months. The vote of the congregation to ordain their pastor was unanimous.
John Shaull, BCI representative for Western Iowa, presented Pastor Jim his ordination certificate signed by the members of his ordaining council.
Share