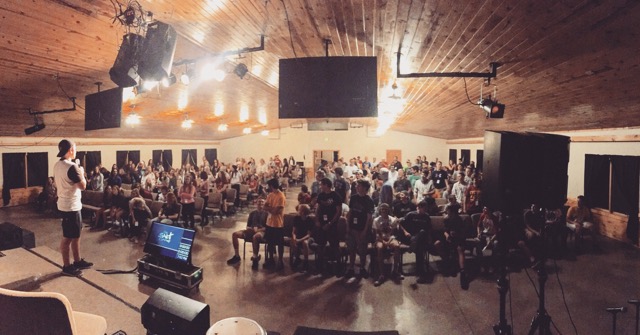 By Rudy Hartmann
The Freshmen Retreat was a pivotal moment in our ministry this Fall semester. After our leaders, captains, and staff had hundreds of conversations with freshmen, it was finally time for the retreat! The retreat lasted Friday through Saturday, for a grand total of twenty-four hours at Hidden Acres.
The cost of the retreat was only twenty dollars per freshman thanks to a generous gift from the Ross family! By Friday, we had 47 leaders and 280 Freshmen signed up. This is double the number of freshmen at this year's retreat.
The purpose of our retreat is to help freshmen connect to Salt Company, meet other students, develop a class identity, and to share the Gospel through teaching and small groups. We put students in random small groups so that they can meet other freshmen. Our desire was to give each student opportunities to share in their groups.
We did face a unique problem that God solved leading up to this event. Since the numbers of freshmen kept increasing, we had to keep asking leaders to join us. The Wednesday before the retreat we created the small groups and realized that we needed 4 more female leaders and 3 more male leaders. God was so faithful, and He knew who was going to come to the retreat and which students were going to connect with a certain leader. By 3:52PM on Thursday we had found the last leader! These leaders were able to shepherd our students and have hundreds of Gospel conversations leading to a strengthened community amongst the Freshmen – we can't wait to see how God uses them this year and over the next three years as a part of Salt Company at Iowa State!
Share