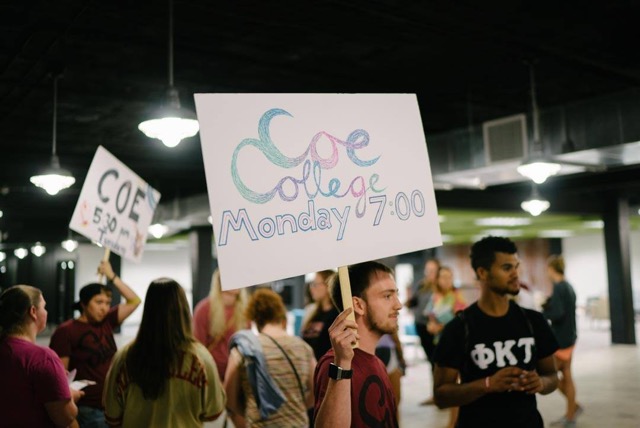 By Nathan Kaloupek
Prior to the Salt Company Kickoff Event we went to schools in Cedar Rapids to do tabling at organization fairs, make contacts with students, invite them to Salt and Connection groups, and get contacts through an iPad giveaway.
Our Salt Kickoff was a great success. We had 95 people come to Veritas Church, where we met. We sang worship, had a message, and had a time for connection group sign-ups and pizza.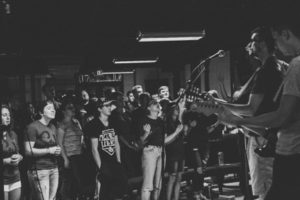 The message was over Luke 18:9-14 – the parable of the Pharisee and the Tax Collector. The basic message was that Salt isn't a group of "good, religious people" as opposed to other "bad" people, but that all people need Jesus, the question is whether we see that like the tax collector, or are trying to justify ourselves like the pharisee.
After the message we had pizza ready for the students, along with our group leaders spread out to meet people and get them acquainted with their connection groups. So far we've had around 30 people sign up for groups. Many of the people that attended the kickoff were freshmen from the different campuses we minister to. It was amazing to see students we had made a personal contact with choose to come out from their campus or dorm and choose to check out Salt.
One girl I had met at Kirkwood a couple nights before came after the message and worship had finished. I was mingling and meeting people when I saw her come in the door of the church, looking tired and a little confused. She said she had work that night and couldn't make it earlier, but had our kickoff flyer in her hand. I got her over to the pizza and introduced her to the two female co-leaders for her campus. After a few minutes she was laughing, smiling, and making real connections with the leaders and the other girls that were joining the connection group.
Stories like this were happening all over the church that evening. God was clearly drawing people to himself and into real community at the kickoff. We are excited for God to keep doing more and more across Cedar Rapids.
Share