By Pastor Mark Scott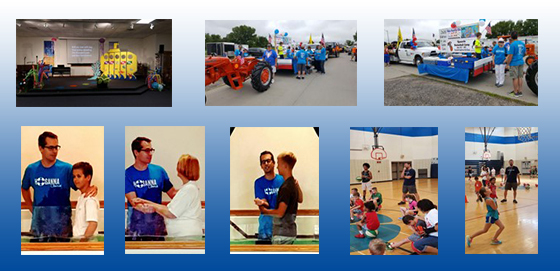 Hosanna Church had a great summer getting out in the community and at our facility sharing Jesus! We were able to pull off four events. Our church family came together to give children and there families an opportunity to learn about God's love and to have fun all at the same time. We, also, were able to purchase our first Hosanna Church T-shirts to wear while doing ministry.
In July  we began getting the word out about our upcoming VBS and Upwards Basketball Camp by participating in the Carlisle 4
th
 of July parade. One of our members pulled a trailer with his antique tractor while the rest of our Hosanna Church family handed out Popsicles and cold waters. Perfect for a warm summer day! On the 18
th
 we had a week long of Submerged VBS themed fun! Our churches was decked out with sea creatures, coral, and submarines creating an atmosphere the kids loved. And finally, we had our annual Basketball Camp at one of the middle schools in the community where 21 boys and girls ages 5
to 12
showed up to learn devotion to God as well as offensive and defensive skills that was sure to help them in their future basketball careers!
On  
Sunday, August 14
, we had our first Baptismal service at Hosanna Church. Four individuals made a decision to be baptized and celebrate their salvation. We were excited for them all. This was a great ending to a fantastic summer of ministry and fun.
Share