By Chris McRae, BCI Discipleship Team Leader
OTTUMWA –  Albia Road Baptist Church celebrated National Back to Church Sunday on September 18th with a powerful message of Unshakable Faith, standing strong when things go wrong.
Guest speaker, Judy Bower of Laredo, Missouri shared with the congregation how over the past thirty years her faith has been shaken, similar to Job's, by a series of unfortunate events her family has faced.  When she and her husband lost their farm after insurmountable financial difficulties, they both began working long hours to support their three children.  Pulled in opposite directions, she said she felt their "marriage was a wreck."
Then a major car accident caused extensive damage to Judy's shoulder, destroying her arm and rendering her unable to continue her career as a respiratory therapist.  Her husband began looking for a better job which led him to work for on a farm in Illinois.  She later realized that God led them to this farm, where the doctor who owned the farm connected her to a specialist who would operate on her arm.
"God started opening doors for us.  I chose to obey God.  I chose to glorify God, who created me because he has a purpose for each and every one of us.  If God is in it, we win it," Judy said.
Eventually they decided to give farming another go, research led them to decide Missouri would be the best place for their expanded cattle operation.  They found a farm, however first they had to sell their property in Illinois.  This meant making the difficult decision for husband and wife to live apart for a short while, he would stay behind selling the Illinois property while she would start preparing for their life in Missouri.
"When God moves on your heart to do something, it very seldom makes sense," she said.
Shortly after she began her new career as head of respiratory therapy at a Missouri hospital she got the call that her son who was with her husband in Illinois had become quite sick, then came the news that he had stage 4a primary site liver cancer.  She wondered if the move was a mistake and if she should return to Illinois.
But her son said, "I'm just sick, I will be ok, we decided to move, we should move."
He went through cancer treatments and when the news came in that there was a liver ready for him, her flight to Illinois was delayed just enough that she got there just when needed during his liver transplant surgery, again she gave God the glory for this.
"God's plan isn't easy.  It's always perfect." she says.
Through the many trials she has faced, she says her "power source" continues to be Jesus Christ, getting her through numerous things over the years, such as having breast cancer while another son died of brain cancer, dealing with the death of her mother and father and then coping after a stroke last year.
Pastor Jeremy Skinner said, "The only way to have this victory, to find joy in our life, is to follow God's directions."
Pastor Skinner added, "If you have the right foundation, this is the promise God makes."  providing four keys to attaining unshakeable faith:
God can give you peace when you are anxious.  If you humble yourself and cast all your care on him, praying about everything. Philippians 4:6-7.
God can give you power when you are weak.  2 Corinthians 12:9.
God can give you protection when you are afraid.  2 Corinthians 4:8-10
God can give you a plan when you are uncertain.  James 1:5
The National Back to Church Sunday had an attendance of 96 which is 30 above their weekly average. The celebration at Albia Road concluded with a Ribeye Sandwich Dinner complete with a variety of salads and sides, optional hot dogs and of course desserts.  Members and guests enjoyed an afternoon of food and fellowship. Included in the total were nine first time guests all of whom stayed for lunch and three even returned for the evening service. One of those is not yet a believer and is currently considering a decision for Christ.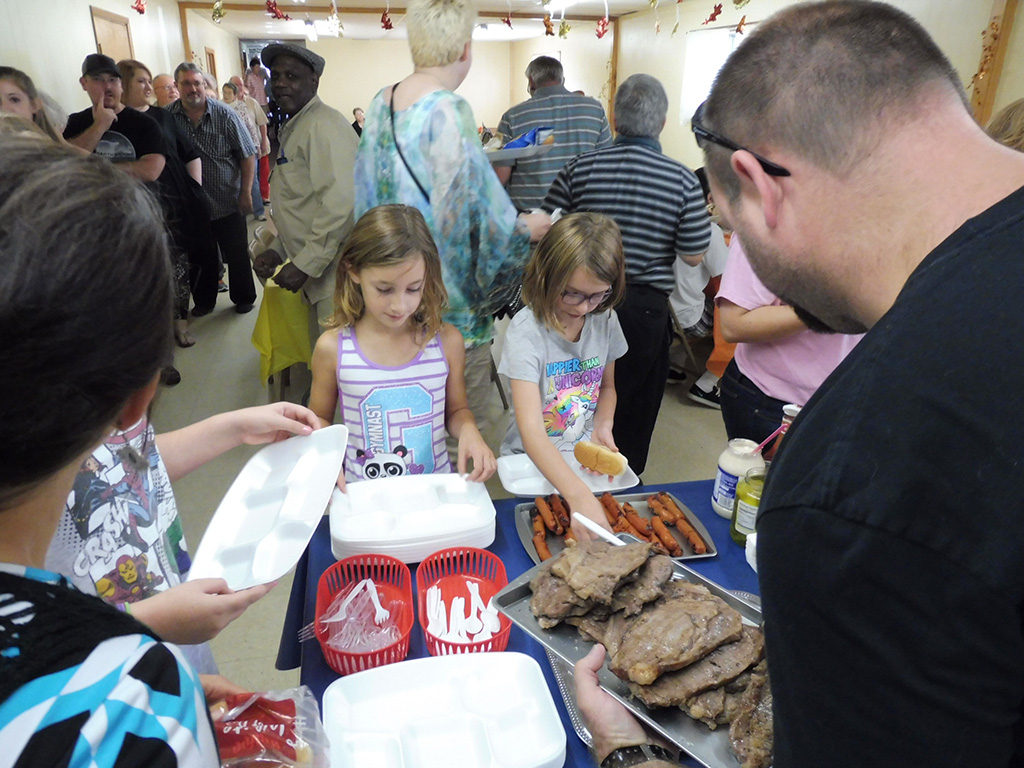 Share