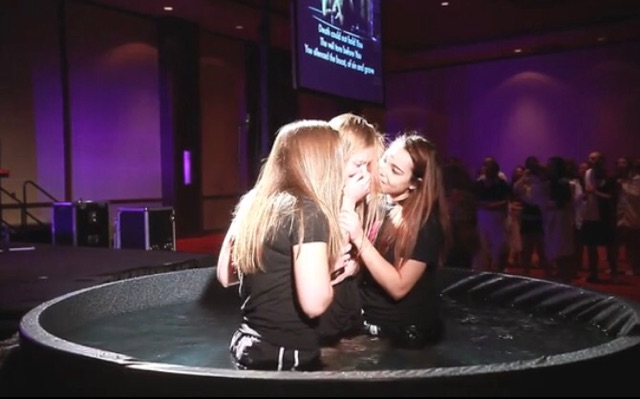 By Shannon Ness, The Salt Company Coordinator 
This Month, Veritas Church baptized 19 people and 18 of them were students. For many of the students, God used either another student from The Salt Company or a specific night of Salt to plant a seed of truth in their lives. Here's a testimony from one Salt student whose life has been changed by God this year:
"I had grown up in a Catholic Church and school system. While I had been learning the facts and following the rules through my senior year in high school, I put my hope in all the wrong things–friends, relationships, and sports. By doing this, I fell into some very dark years of anxiety, loneliness, and loss of passion for all the things I used to love. By the time, I finished my semester of college, I considered myself genuinely unrepairable and unlovable, especially by God who I thought I was not good enough for.
During my first semester of college at The University of Iowa, I was going to Salt weekly because some of my teammates had gotten me to go with them, It was a lot less traditional than what I had grown up on, but I was drawn to the people in Salt because of how passionate they were.
One night at Salt, we were asked to envision a place that resembles no other. In this place we are walking alone. Then, someone joins you and you are walking towards the same goal. All of a sudden there are many more people, walking down this path to the same place as you. They understand you and you understand you, because you are surrounded by an amazing community of people. Then you are alone again, but before you is this great light–God, and you realize that you FINALLY feel at Home.
This story helped me understand the hope of a home with God who loves you with no end and with abounding grace. All I could think was…THIS is what I have been searching for! All the false hope I had was in the wrong things that can not even begin to compare to the longing I have now to be reunited with a my Creator and my Father.
Since that night at Salt, I have felt overwhelmed by the fact that I am unconditionally loved by God. I now see God working in too many "coincidental" ways to be explained by anything but the fact that He is the one true God. I know that He is a God who loves me and I want to be someone who glorifies Him because His love changed my life."
Share