By John Shaull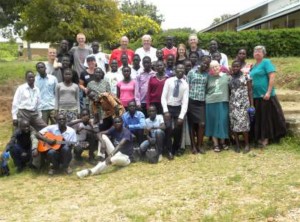 In 2000, God led Stan and Pam Wafler, IMB missionaries, to Arua, Uganda to work with the Lugbara people in the northwest part of the African nation. In 2005, Gordon and Bonnie Caldwell (Bonnie is the daughter of a New Bridge Church member), joined the Waflers as two year mission volunteers. New Bridge Church became one of the Caldwell's prayer partners. In 2006, Pastor Mike Carlson encouraged New Bridge to send out a scouting team to Arua to learn about possible partnering opportunities for New Bridge Church. In 2007, the partnership with Stan and Pam formally began and the volunteers started going into Lugbara villages sharing specific Bible stories. This pattern eventually morphed into volunteers going into the schools and reaching students and discipling them. In 2010, volunteer "Journeymen", Waflers and new missionaries, Doug and Kathryn Taylor, conducted the first leadership/discipleship camp that trained students in bible storying, sharing their testimonies and teaching them that biblical truth trumped the religious syncretism of the culture (Christianity and witchcraft), practiced by other churches in the region.
The camp theme for the first year was "SPEAK", based on a bible study acrostic method which stands for:
S-Sin to confess
P– Promise of God
E– Example to follow or not follow
A– Application
K– Knowledge about God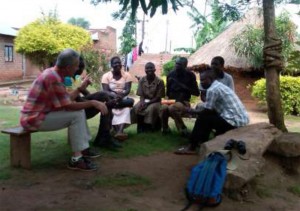 The next year was "ROOTED"- which centered on students grounding themselves upon God's word and the truth of its teaching, including salvation. Year three, "GROW"- emphasized spiritual growth following conversion. The fourth year "MOVE" led students to consider whether they were stagnating in their faith or actually moving toward greater obedience.
In 2014, a team of 5 people, John Shaull, Dianna Sparks and Sara Shaull from New Bridge Church and Gordon Caldwell and Wendy Ebright from  Murdock Baptist Church in Florida, assisted with a camp that focused strongly on developing disciples.
In the last 3 years, some students came to faith in Christ and others desired "believer's" versus infant baptism. A total of 17 students have been baptized. One of the most exciting aspects of the partnership has been watching the spiritual development of the students. This year, the Africans led most of the group sessions and assisted with the preaching. It is evident that Paul's words to Timothy are coming to fulfillment in the West Nile region of Uganda: "You have heard me teach things that have been confirmed by many reliable witnesses. Now teach these truths to other trustworthy people who will be able to pass them on to others" (NLT).
IMB missionary Stan Wafler shared, "One big take away impression I have is that this has cooperative program and cooperation written all over it.  We have mutual relationships with TN and Iowa that go back for years. Secondly, a church in Iowa and FL are working together. Of course the use of BGR buckets is another CP ministry. FBB camp involves students from many churches but they were able to cooperate to support gospel sharing outreach ministry through Awindiri Baptist. Seems to me if there was a way to paint a picture of that it would help people understand. Cooperation cannot happen without humility, relationships, understanding, and working together on a long term strategy."
Share