Featuring:
A joint commissioning service for IMB and NAMB missionaries. Be a part of the commitment, prayer, and excitement as up to 100 missionaries are commissioned to share the gospel in North America and around the world.
A tour of historical sites significant to Annie Armstrong's life and service in missions. See Annie's grave marker, home church, and more.
The culmination of a yearlong celebration of the 125th anniversary of WMU!
Where you'll want to be:
Sunday, June 8
4:00 p.m.
Commissioning Service for IMB and NAMB Missionaries
Baltimore Convention Center Ballroom
(Corner of Pratt Street and Howard Street)
Monday, June 9
Missions Celebration
Sheraton Baltimore City Center Hotel (soon to be Baltimore Harbor Hotel)
101 West Fayette Street
No preregistration is required. The event is free and everyone is welcome!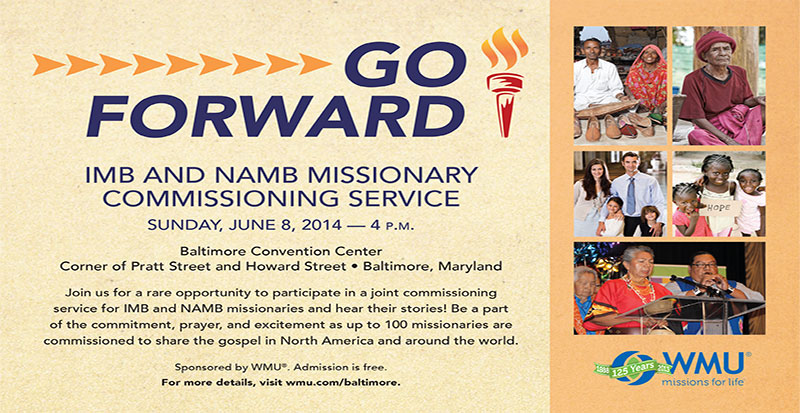 BALTIMORE (BP) — With the theme "Go Forward," the WMU Missions Celebration and Annual Meeting will take place June 8–9 in Baltimore.

"What better place to wrap up a yearlong celebration of the 125th anniversary of WMU than the home of Annie Armstrong!" Debby Akerman, president of national WMU, said in reference to the Baltimore woman who was instrumental in the missions organization's founding in 1888 and was its first corresponding secretary.

"[W]e will embrace Annie's challenge to 'go forward' with missions," Akerman said of the June meeting, "as we celebrate how God is working around the world and through WMU, and renew our commitment to advancing missions education and involvement."

This year's celebration will feature a rare opportunity on Sunday afternoon to experience a joint commissioning service of up to 100 new field personnel representing the International Mission Board and North American Mission Board, along with messages from SBC Executive Committee President Frank Page, mission board presidents Tom Elliff of IMB and Kevin Ezell of NAMB and national WMU leaders. This portion of the WMU event will take place at 4 p.m. in the Baltimore Convention Center Ballroom.

"Commissioning missionaries for special service is a great privilege," said Wanda S. Lee, executive director of national WMU. "It is a time to celebrate their calling, voice our affirmation and prayers as we hear their testimonies and commit ourselves to 'hold the ropes' prayerfully and financially as they go. We invite everyone to join us and be a part of the commitment, prayer and excitement as these follow the Lord's call to their place of service."

On Monday at the Sheraton Baltimore City Center Hotel (soon to be Baltimore Harbor Hotel), attendees will hear from a variety of international and North American missions personnel, including Taylor Field, a NAMB LoveLoud missionary who serves at Graffiti Center in New York City. Field also is the author of "Upside-Down Leadership: Rethinking Influence and Success" and "Upside-Down Freedom: Inverted Principles for Christian Living." His new book, "Upside-Down Devotion: Extreme Action for a Remarkable God," will be available later this spring. 

Visit wmu.com/baltimore for more information. For a schedule, click here.

Julie Walters is the corporate communications team leader for WMU (Woman's Missionary Union), based in Birmingham, Ala.
Share