by Emily Swader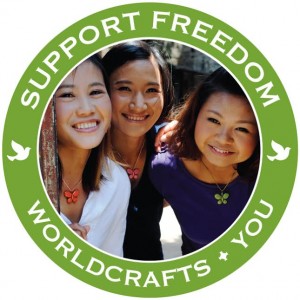 (Birmingham, Ala.) –  WorldCrafts SM launches the Support Freedom campaign this August to actively empower WorldCrafts customers and aid artisan groups working to free women trapped by human trafficking and sexual exploitation.
Each year, by force, fraud, or coercion, millions of people find themselves trapped in bonded labor and sexual exploitation. WorldCrafts artisan groups are working to end these evils by providing a sustainable income to people in poverty. When earning a living wage, parents are less likely to be seduced by a sex trafficker's promises; and young women hoping for a better life are less likely to fall prey to criminals seeking to use and abuse the most vulnerable.
"While it can seem difficult to find an entry point in the fight against human trafficking, it is important that we keep working in every manner possible," said Andrea Mullins, WorldCrafts director. "Worldcrafts provides quality products created by people around the world attempting to escape poverty. Through our Support Freedom initiative, we are specifically working to aid women who have been rescued from trafficking and the organizations that work to rescue them. Purchasing gifts and goods from Worldcrafts is another great inroad to combating this exploitation of millions of women and children."
There are several avenues of involvement through the Support Freedom campaign:
Learn more at WorldCrafts.org/SupportFreedom.asp by reading stories on artisan groups tackling the problems—spiritual, emotional, and physical—at a grassroots level.
Purchase items through WorldCrafts made by artisan groups highlighted in the Support Freedom campaign and know you are financially supporting those on the front lines of this moral crisis.
Pray for these artisan groups specifically; see prayer guide at WorldCrafts.org/SupportFreedom.asp.
Host a Support Freedom Party and to tell your church, friends, and family about WorldCrafts.
Give to the Jackson/Reese Endowment for WorldCrafts to help WorldCrafts bring on new artisan groups or the Hayes Endowment to help WorldCrafts in the fight against human trafficking.
For more information about WorldCrafts or the Support Freedom Campaign, visit WorldCrafts.org/SupportFreedom.asp. To order a free catalog, please call 1-800-968-7301.
Share