By Samantha Alexander and Lari Roush
A sold out crowd gathered at the Grace Fellowship Church in Des Moines on the 13th and 14th of March. Keynote speaker Jefferson Bethke presented the difference between religion and a relationship with Jesus in a fast paced discussion followed by a question and answer session.
The youth praise team from Grace Fellowship lead worship throughout the conference demonstrating their amazing talent and service within the church and community. This attitude of service was displayed later in the conference by their Stomp Team, a group of young students who entertain and witness to other youth with their buckets and glow in the dark drum sticks.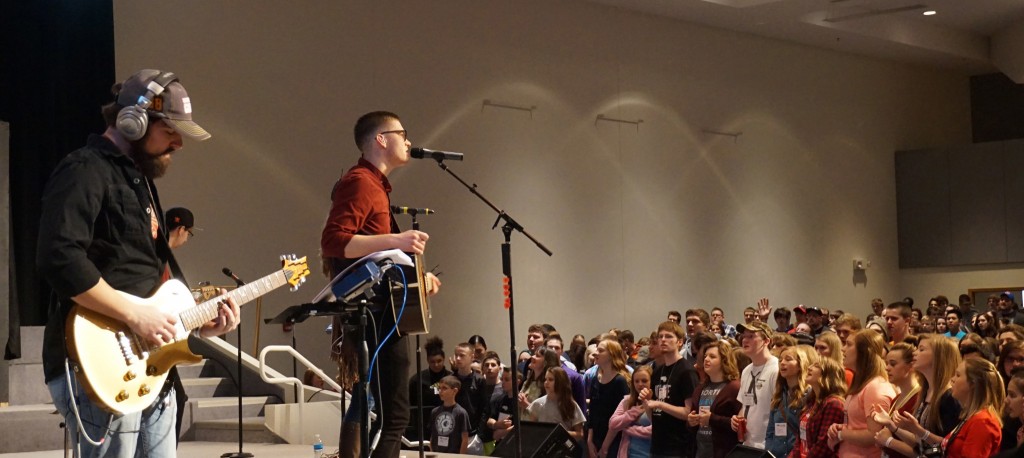 The purpose of this annual conference is to equip youth leaders and students with the tools and abilities to motivate members of their community. The five main speakers encouraged youth to not be ashamed of their past but to share their faith. They spoke to everyone using the themes that God can use you no matter what you go through, overcoming fear, and sharing your faith boldly.
Comedian Bob Smiley kept everyone laughing with his antics and funny stories. Other conference speakers included Eric Samuel Timm, artist and author of Static Jedi, Sheri Rose Shepherd author of Fit for My King, and Jason Epperson, Next Gen teaching pastor at Southeast Christian Church in Louisville KY. Students and leaders were able to explore topics that personally interested them through breakout session on topics from dealing with struggles to equipping better leaders.
Des Moines high school student Samantha Alexander says she enjoyed the Living Life on Purpose session by Jason Epperson. She states that she learned about "the imprint of God and that the only way to fill this imprint was with God." From this session she hopes to return to her school and share the Gospel with her friends so they can fill the imprint that God has left on them. Student Lari Roush stated "I really enjoyed attending Ignite because I felt like I was equipped with techniques to become a better student leader as well as sharing my faith with my classmates openly."
Don't miss Ignite 2016 for your chance to be challenged, inspired, and equipped.
Share