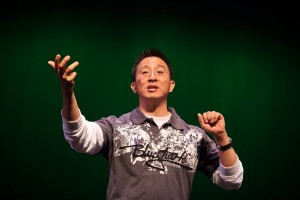 First Family Church will be hosting speaker and author Christopher Yuan on
Sunday, June 14, 2015
. He will be speaking on
Out of a Far Country: A Gay Son's Journey to God
in both the
8:30AM and 10:30AM 
Celebration services.
He will also be leading a seminar on 
A Christian Response to Homosexuality
at the
6:00PM
service.
There will be childcare available during the morning services, but we do ask that parents arrange their own childcare for the evening event. Due to the content of the messages, it is Christopher's recommendation that any children under 10 not be in the morning service, and any children elementary aged and younger not be in the evening service.
In the morning, Christopher and his parents, Leon and Angela, will share about how to endure the years with a prodigal and what biblical sexuality is. The Yuans experienced years of heartbreak, confusion, and prayer before they found a place of complete surrender, which is God's desire for all families. Their amazing story, told from the perspectives of father, mother and son, offers hope for anyone going through the trials of life.
In the evening, Christopher will speak on A Christian Response to Homosexuality. Homosexuality is one of the most relevant issues of our day. How should Christians respond to homosexuality and more importantly those in the LGBT community? How do we minister to those affected by homosexuality? Without any compromise of truth or grace, Christopher Yuan combines his life experiences with his training in the Bible in its original languages to bring a fresh and unique perspective on this sensitive issue.
Christopher's vision and hope is that the audience would be further equipped and challenged to engage compassionately and correctly with the homosexual people in their sphere of influence in our city. His goal is that they would have a keen awareness of the hope in Christ for absolutely any crisis in life, enhancing their ability to relate to anyone going through a similar struggle.
Share