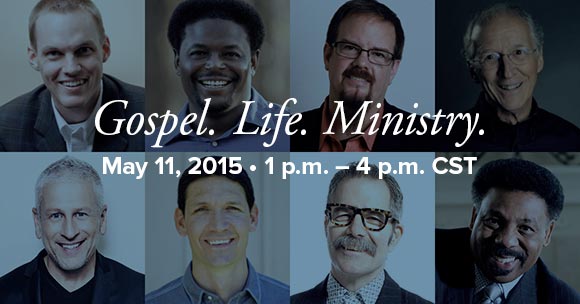 Featuring David Platt, Derwin Gray, Ed Stetzer, John Piper, Louie Giglio, Matt Chandler, Paul Tripp, Tony Evans, and more!
On May 11, more than a dozen leading pastors, theologians, and thinkers are collaborating for a one-of-a-kind gospel-centered event.
Gospel. Life. Ministry. is a free online event that will challenge and encourage pastors, church staff, group leaders, and Christians of all life stages to consider how the gospel permeates and transforms every aspect of our lives. This is the perfect opportunity to gather your team or small group and be refreshed together.
SCHEDULED SPEAKERS:
JOHN PIPER – The Gospel and the Glory of God
DERWIN GRAY – The Gospel and Religion
DAVID PLATT – The Gospel to the Nations
PAUL TRIP – The Gospel and the Heart
MATT CHANDLER – The Gospel-centered Church
THABITI ANYABWILE – The Gospel and Church Leadership Development
TREVIN WAX – The Gospel and Repentance
ED STETZER – The Gospel and Missional Living
RAY ORTLUND – The Gospel and Revival
RANDY ALCORN – The Gospel and Future Hope
TRILLIA NEWBELL – The Gospel and Race
GLORIA FURMAN – The Gospel and Motherhood
MACK STILES – The Gospel and Evangelism
TONY EVANS – The Gospel of the Kingdom and the Christian Life
DA HORTON – The Gospel and Cultural Engagement
TRIPP LEE – The Gospel and Life Ambition
DHATI LEWIS – The Gospel and Discipleship
JEFF VANDERSTELT – The Gospel and Community
JD GREEAR – The Gospel and Family Discipleship
JEN WILKIN – The Gospel and Women's Ministry
ERIC MASON – The Gospel and Fatherhood
LOUIE GIGLIO – The Gospel and Worship
ERIC GEIGER – The Gospel and Community
BEN TRUEBLOOD – The Gospel and Student Ministry
JANA MAGRUDER – The Gospel and Kids Ministry
Share