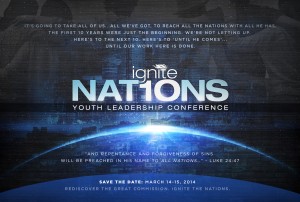 Grace Church, Des Moines IA. – At 5:30 PM Friday, March 14th there was excitement in the air as the Ignite Youth Leadership conference anticipated celebrating its 10th year of equipping youth ministries in the Midwest. The students began pouring in from Missouri, Nebraska, Wisconsin, and Minnesota to name a few, and there were even youth ministries in attendance from Canada & Texas. Overall, there were over 150 churches represented at Ignite this year and over 1,600 people were in attendance.
For the 10 year celebration the challenge was to reach the "Nations" with the gospel of Jesus Christ through discipleship and equipping. Since Ignite is about youth and youth workers, listen to this youth worker, Woodie Ladnier from First Baptist Church in Lamoni, IA. and the big idea that he captured; "discipleship doesn't just happen, it must be intentional….on purpose." Sandy Birchard from Northbrook Baptist Church in Cedar Rapids commented that she loved the teaching by Ramesh Richard and appreciated the depth of teaching regarding Biblical truths.
In all, we are grateful that there is a new generation of students hearing the call of God and responding to the need to take the gospel to the Nations. Pray with us about your role in taking the gospel to your Jerusalem. (Acts 1:8)
The conference dates for next year's Ignite conference are March 13 & 14, 2015.
Pastor Jonathan Meyer
Founder, Ignite Youth Leadership Conference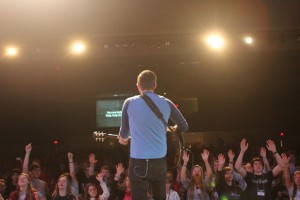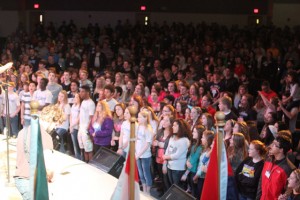 Share