On July 28th, over thirty five people representing at least ten churches from across the state gathered at Cornerstone Church in Ames. They met to learn how Iowa churches can be more involved in sending and supporting missionaries through the International Mission Board (IMB). John Brady, IMB vice president of Global Strategy and Ken Winter, IMB vice president of Church and Partner Services traveled to Iowa for this special meeting.
Tim Lubinus, BCI Executive Director opened the meeting in prayer. Lubinus shared, "It is encouraging to see Iowa churches' broad interest in working internationally and in partnership with the IMB. I'm looking forward to seeing what God will do through these new connections over the next few years."
John Brady and Ken Winters shared many stories of churches who are partnering with the IMB to send and support missionaries. They talked of the amazing work of God is accomplishing through the IMB in some of the toughest parts of the world. In 2013 the IMB saw an incredible 114,571 baptisms across the world.
The IMB is currently supporting 4,850 missionaries serving over 900 people groups in over 140 countries. Winters stated that local churches must train up new missionaries, and support existing missionaries. "Financial support is the only limiting factor to the number of missionaries we are able to send," he continued.
The International Mission Board receives financial support primarily through the Cooperative Program and the Lottie Moon Christmas Offering for International Missions. A portion of all Cooperative Program giving is sent to the IMB. One hundred percent of the Lottie Moon Christmas Offering goes to the IMB, providing 59% of its annual budget.
While the Lottie Moon offering was up last year, Cooperative Program (CP) giving was down resulting in a nearly flat budget for the IMB. Unfortunately, the costs involved in sending and supporting missionaries are going up. Winters mentioned that at the current levels of Lottie Moon and CP giving the number of missionaries on the field will have to be reduced in the coming years.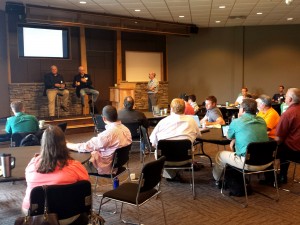 This is why it is so important that Iowa churches fully participate in the Cooperative Program and support the Lottie Moon Offering each year.
Brady and Winters went on to describe some of the other ways that local Iowa churches can be involved in international missions through the IMB. They described the process of becoming an apprentice missionary, and how that leads to becoming a career missionary. They also outlined a newer process called the Macedonia Project, a three- to four-year field assignment that allows missionaries to live and serve overseas while pursuing a theological education degree.
There are also opportunities for shorter term missions involvement for students, families and people of all ages. There is even a "Masters" program for those 50 years old or older with no dependent children who are available to make a two or three year commitment to serve overseas utilizing the maturity, skills, and experience they have gained over their lifetime.
Brady and Winters handed out the 2014 Opportunities Handbook, a resource for individuals and churches who want to learn more about partnering with the IMB. You can order your own FREE 2014 Opportunities Handbook at imbresources.org.
For more information about the International Mission Board and opportunities for your church to serve and send go to going.imb.org.
Get help preparing for the 2014 Lottie Moon Christmas Offering with resources available at imb.org.
Pray, learn, get connected and be inspired with these FREE books from the IMB!
Share