Month of Prayer and Focus
September 2017

Ministering to the most vulnerable
Preparing Iowa Baptists' future leaders
The Iowa Missions Offering fulfills these two visions by:
Supporting ministries that offer God's mercy, love, and truth to those who are hurting across our state;
Awarding seminary tuition scholarships to Iowans who are preparing for full-time ministry;
Provided funding for staff interns to help start new ministries on college campuses across the state.
During the month of September each year, Baptist Convention of Iowa churches across our state collect a special offering specifically designated for ministry in the state.   By pooling our offerings together, much can be accomplished for the Kingdom.
100% of the money given to the Iowa Missions Offering will be used in two specific ministry areas:  1) the Iowa Ministry Fund, which supports fourteen Iowa ministries in ten ministry categories that offer God's mercy, love, and truth to those who are hurting across the state, and 2) to develop future leaders in Iowa who will reach the next generation for Christ through seminary education and starting new collegiate ministries in the state.
The emphasis dates for the offering this year are September 10-17, but your church may feature the offering anytime during the month of September.  Though September is the focus month, contributions may be designated to this offering at any time throughout the year.
Download a prayer guide to distribute to your congregation seeking their prayers and financial support.
More information about specific ministries supported through the Iowa Ministry Fund is available HERE.
BCI has also produced a video that can be used in promoting the offering in a Sunday worship service, small groups, prayer meeting, or Sunday School class.
If you would like a copy of this video on a DVD, contact Jon Olsen at iowabaptistnews@gmail.com, or call or text the office at 515-809-2819.
Anytime someone designates gifts to the Iowa Missions Offering through your church, simply send the funds collected in the offering with your monthly Cooperative Program donation noting on the giving form the amount designated to the "Iowa Missions Offering."
Donations may also be made online by clicking the Give Now link on BCIowa.org.
Resources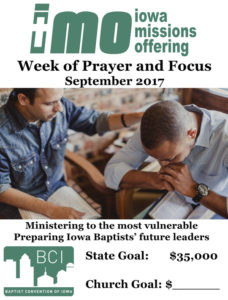 Download the 2017 IMO Prayer Guide
Download the 2017 IMO Powerpoint Slide
Share