During a hot, summer week in mid-July, 132 students and 53 staff from 20 BCI churches across Iowa gathered for Impact University (BCI Youth Camp) at Buena Vista University in Storm Lake, Iowa. Some were new and some were veterans but all came expectant of what God might do this week. True to God's character, as we "drew near to Him, He drew near to us." The theme for this year's Impact was: "The Living Dead." Our theme verse was Galatians 2:20: "I am crucified with Christ, nevertheless I live, yet, not I but Christ lives in me and the life I now live, I live by faith in the son of God who loved me and gave Himself for me."
Jackie Hill from Roseville, MN, a long time Impact staffer, spoke relevant messages of truth with titles such as: "The Walking Dead", "The Disguised Dead", "The Mostly Dead" and of course "The Living Dead." In reality, although the word "dead" appeared in every message title, the messages were all about life. New life in Christ! When asked if he had asked Christ into his heart, a student in red school told Jackie, "my heart, my hands, my mind and anything else Jesus wants." In all, twenty-two students and one staffer committed their lives to Christ during the week. Eighteen young people re-dedicated their lives to Christ as their Lord. Several students asked for prayer and were prayed over. Four students sensed a call to Christian ministry and seven students needed assurance of their salvation. There were also five other commitments throughout the week.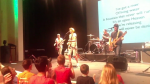 I think it says a great deal about Impact University when we have 10% of our staff comprised of former students and that number is growing every year. Impact is one of the best examples of churches in the Baptist Convention of Iowa cooperating together to fulfill the Great Commission. If your church isn't sending students or staff to Impact, let me encourage you to join us for Impact 2014. Don't be a "dead-beat" when it comes to Impact!
Share