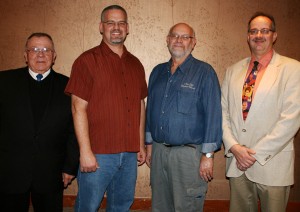 Join us in praying for  the following men who were elected to officer positions at the BCI Annual meeting on November 2nd in Des Moines.
President, Lloyd Eaken, pastor of Fairview Baptist Church, Anamosa
Vice President, Ken Livingston, pastor of First Grace Baptist Church, Sheffield
Second Vice President, Ken Kraft, pastor of New Life Baptist Church, Kingsley
Secretary, Jerome Risting, member of Temple Baptist Church, Mason City
Steve Little, Shiloh Baptist Church, Waterloo took Ken Livingston's place on the executive board.
Full coverage of the Annual Meeting will be published soon.
Share