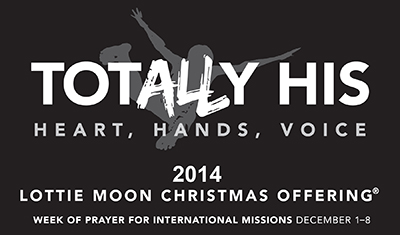 Southern Baptist churches collect the Lottie Moon Christmas Offering for the sole purpose of supporting missionaries sent by churches through IMB. Every penny of the offering goes to IMB's overseas budget. The Lottie Moon Christmas Offering provides the largest portion of IMB's income — 54 percent.
Thanks to Southern Baptists, $149.3 million was given to the 2012 offering. It surpassed the previous year's offering of $146.8 million by more than $2.4 million and marked the third-highest amount given in the offering's 124-year history.
Week of Prayer for International Missions
December 1-8, 2013
Missionaries connecting churches to people groups and churches serving as God's hands to reach them … workers reflecting His heart in dangerous or lonely places and believers crossing oceans to be His voice. This year's Week of Prayer for International Missions includes stories of some who are committed to being totally His — and totally His heart, hands and voice.
They are committed to God, first to love Him and then to love others, as Christ commands in Matthew 22:36–39. Doing whatever it takes and giving no less than their all.
Are we – all of us – up to the challenge to do what is required of us as believers in Christ?
This isn't your average give-a-few-bucks-on-Sunday morning, pray-every-now-and-then kind of challenge. This is giving your everything so people can know the love of Jesus.
"The need of the nations is too great for us not to take the most sacrificial steps possible to get the Gospel to the world," one pastor said.
It may seem like a lot of absolutes — "all," "everything," "whatever it takes." But that's what being totally His requires: constantly going deeper and pouring ourselves out to be His heart, hands and voice — individually, as a church, as Southern Baptists working cooperatively to reach all the nations.
Join with other Iowa Baptists as we pray for International Missions December 1-8, 2013, and as we collect the Lottie Moon Christmas offering in the month of December.
Iowa Woman's Missionary Union is packaging up prayer guides, posters, and offering envelopes for the 2013 Week of Prayer for International Missions.  Churches are encouraged to pick up their International Missions Week of Prayer packets at the WMU Table at the BCI Annual Meeting November 1-2, 2013, in Des Moines.   WMU will be using the most recent order numbers from churches to make up the packets. These numbers can be adjusted when churches pick up their materials.
For more information go to bciowa.org/lmco
Share