In 2013, Van Meter resident Buck Robison approached the church for an opportunity to pay tribute to one of his former Sunday School teachers, Maxine Allcott.  Mrs. Allcott was a Sunday School teacher in the 1950s for the Evangelical United Brethren Church, site of the current Baptist Church.  In September of 2013, while considering options for a memorial, high winds from a severe thunderstorm split a large maple tree on the southwest corner of the church property.  The church decided that a new tree planted in Mrs. Allcott's honor would be a fitting and timely way to show their gratitude.  A local landscaping company suggested a Cleveland Select flowering pear tree.  The tree was planted along with two stone benches and flowers.  A plaque marks the memorial in honor of Mrs. Allcott and all Sunday School teachers who have served at that location past, present, and future.
Three different congregations have called 309 Main Street home since 1875.  In 1968, the Evangelical United Brethren Church merged with the Methodist Church and reconstituted as the United Methodist Church.  Eventually, the merged church moved to a new building about a mile to the southwest.  In 1972, a Baptist church was planted at the location as a mission of the of Winterset Baptist Church (now New Bridge Church).  In that time hundreds of teachers have served at the location.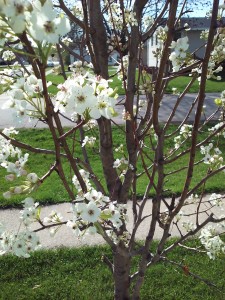 Mr. Robison recalled, "Maxine drove to my house and picked me up each Sunday.  I wasn't the best kid, but she cared enough to bring me to Sunday School every week."  It is that kind of selfless love that marks great Sunday School teachers all across Iowa.  "We want to commemorate that kind of sacrifice and dedication," said Pastor Porter.  He added, "teaching Sunday School can sometimes feel like a thankless job.  Many people don't recognize the hard work that goes into preparing an engaging lesson week after week, but to have Buck donate this memorial shows that Sunday School teachers really do make a lasting impact that is remembered for decades."
The church will have a dedication ceremony on Sunday June 14 following the morning worship service.  A reception will follow in the newly remodeled basement.  One of Mrs. Allcott's daughters, Carole Baggerly Allcott, still lives in Iowa and will be present for the event.  Details can be found on the church's Facebook page.
Share