By Rudy Hartmann
Salt Company Spring Conference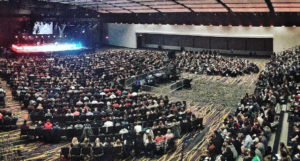 The first weekend of February, all of the Salt Companies from across the midwest convened in Des Moines, Iowa for our annual Spring Conference. This was a time that is encouraging, educational, and is a ton of fun for our students as through a variety of breakouts, connection group times, and four main sessions with Jared Wilson of Midwestern Baptist Theological Seminary, the Gospel was brought to the forefront of the conference and 1,500 students were challenged by Micah 6:8.
However, there is an additional reason for this conference that is central to the ethos of Salt Company and the Salt Network. You see, there were eight established churches represented and four church plants that will be sent out over the next two years that were given their own breakout sessions to promote and call students to themselves. In essence, we presented before each student one of the three paths that we desire they graduate into at this conference.
These are the three paths:
Join a healthy, established, biblically-sound church and be invested in the life of it.

Join a Salt Network church plant team. (Most emphasized at Spring Conference)

Join the Salt Company Staff.
We like to say that we're not simply raising student leaders, but are rather raising up church leaders. When our students graduate, we want them to have an affinity with the local church, posture their lives to be invested in the life of a local church, and even consider being in a leadership position within the church. When our students graduate, we want them to consider leveraging their lives to move with a church plant and committing at least two years to the plant in helping establish the church with real leadership opportunities. When our students graduate, if they've been identified as having the character and giftings for ministry, we ask them to consider joining a Salt Company Staff team.
Why? Because students graduate. We don't want to develop people to be leaders and Christians in college, but for life. So we get to leverage the Salt Company Spring Conference to move them further down one of these lanes so that they might love Jesus more when they are 80 than they do now and lead for a lifetime, not just in college.
Freshman Theology of the Gospel
Our Theology of the Gospel course is a nine-week course through which we lay a theological foundation for the students of Salt Company. In addition to being a requirement for joining student leadership at Salt, we know it is an effective tool for shepherding large swaths of our students all at once and for building relationships between the staff who teach it and the students who take it.
A unique element of our Spring sections of Theology of the Gospel is our Freshman specific TOG courses. Through these courses, 130 freshmen will come once a week, for nine weeks, to be crafted over time toward a fuller, deeper understanding of the Gospel and its implications. In and of itself, this is crucial to the future of our ministry, as ~80% of this class is projected to apply for leadership next year. It also creates a unique class identity among these Freshmen. I can't begin to tell you how many stories by Sophomore and Junior guys begin with the phrase "We met at Freshman TOG…" The is is clutch to the culture crafting of a class identity to be founded on the Gospel.
One of the unique elements of TOG is the surveys each student does each week in asking those around him or here about a different element of the Theology of the Gospel, relating to the subject that particular week. If 100 of the 130 do the survey with three people, that's three hundred people being asked a question like "who is God?" each week, beginning conversations in dorms and dining halls around the Gospel.
300.
In a week.
And that's just the freshmen.
In this alone, it's not difficult to see that Freshman TOG is a brilliant tool of Salt Company that not only develops internally but creates Gospel movement externally, to the glory of God and for the welfare of the campus.
Share