From the Barna Group
What Is a Bible-Minded City?
Each year, in partnership with American Bible Society, Barna ranks the nation's top media markets based on their level of Bible engagement. Individuals who report reading the Bible in a typical week and who strongly assert the Bible is accurate in the principles it teaches are considered to be Bible-minded. This definition captures action and attitude—those who both engage and esteem the Christian scriptures. The rankings thus reflect an overall openness or resistance to the Bible in various U.S. cities.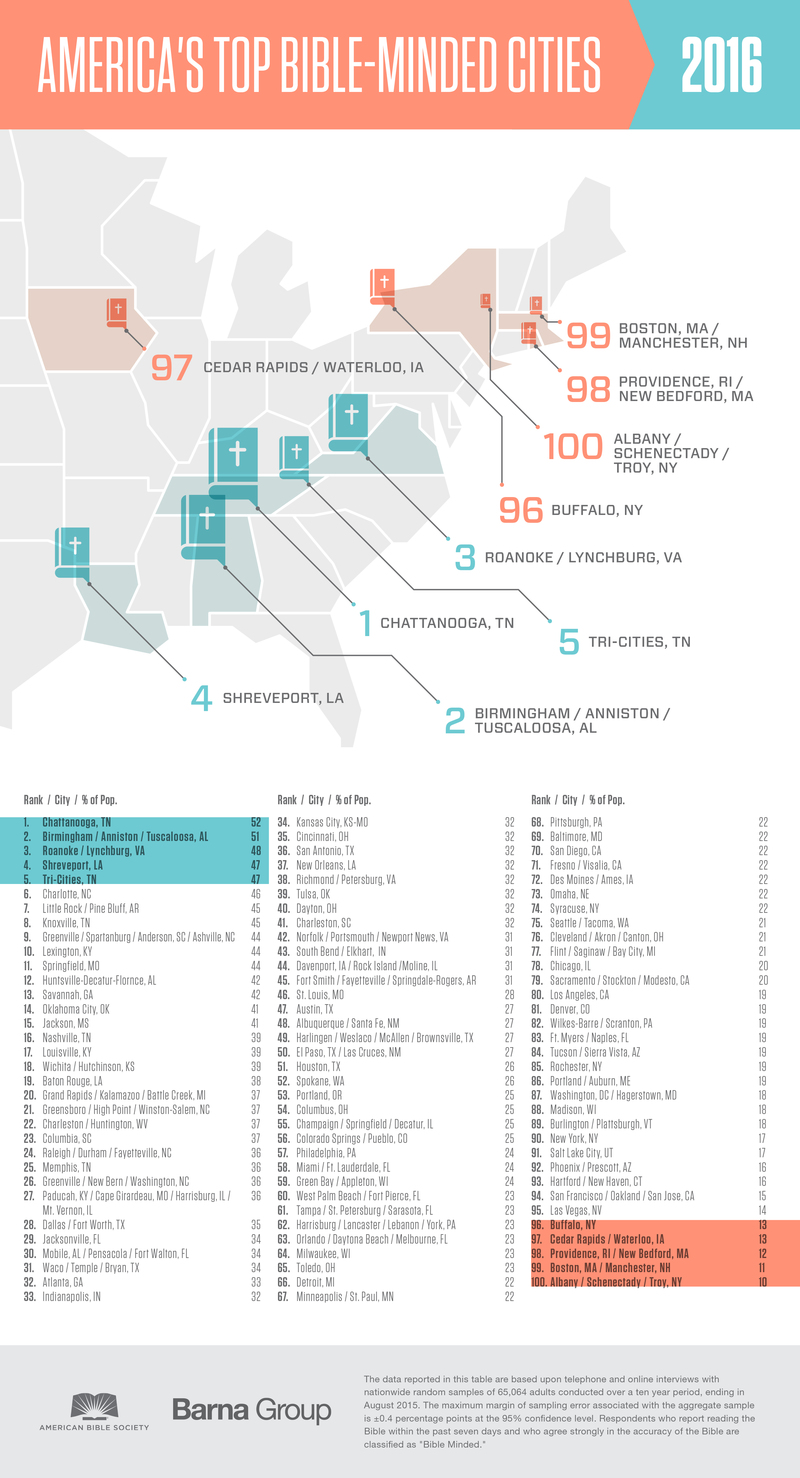 Here's the list of the top 10 most Bible-minded cities:
10. Lexington, Kentucky (44%)

9. Greenville/Spartanburg/Anderson, South Carolina/Asheville, North Carolina (44%)

8. Knoxville, Tennessee (45%)

7. Little Rock/Pine Bluff, Arkansas (45%)

6. Charlotte, North Carolina (46%)

5. Tri-Cities, Tennessee (47%)

4. Shreveport, Louisiana (47%)

3. Roanoke/Lynchburg, Virginia (48%)

2. Birmingham, Alabama (51%)

1. Chattanooga, Tennessee (52%)
And the 10 least Bible-minded cities:
91. Salt Lake City, Utah (17%)

92. Phoenix/Prescott, Arizona (16%)

93. Hartford/New Haven, Connecticut (16%)

94. San Francisco/Oakland/San Jose, California (15%)

95. Las Vegas, Nevada (14%)

96. Buffalo, New York (13%)

97. Cedar Rapids/Waterloo, Iowa (13%)

98. Providence, Rhode Island/New Bedford, Massachusetts (12%)

99. Boston, Massachusetts/Manchester, New Hampshire (11%)

100. Albany/Schenectady/Troy, New York (10%)
Cedar Rapids/Waterloo fell one spot on the list from #96 in the 2015 survey with 2 percent fewer respondents considered to be Bible-minded compared to 2015, down to 13 percent. Des Moines/Ames, the only other all Iowa market surveyed doesn't fare much better , sitting at #72 on the list with only 22 percent of respondents qualifying as Bible-minded. Davenport/Rock Island/Moline is a high point for Iowa and neighboring Illinois with a 44th place ranking and 31 percent of respondents qualifying as Bible-minded.
Share