By Jonette Appleton
God's faithfulness continues at First Baptist Church, Bettendorf, Iowa.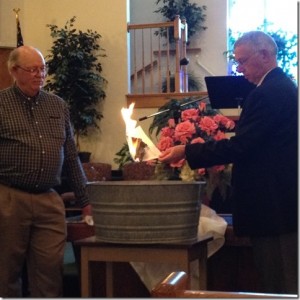 In 2013 the church celebrated 50 years of ministry in Bettendorf and on February 22, 2015, they held another celebration by burning the mortgage on the property.
The First Baptist Church of Bettendorf, Iowa began in the heart of Mrs. Glenda Crosno in August 1959. The first meeting was held in September, 1959, in a rented room in the Bettendorf Community Center. The congregation had to move on several occasions because it outgrew the facilities.  The congregation not only met in the Community Center, but also met in the Case Building and the old Bettendorf library, located at 12th and Grant Street before purchasing its first building at 17th and Brown Streets where it met for 41 years.
Because of God's grace and faithfulness over the years the church grew and in the spring of 2001 set their eyes on beginning to build on property they had purchased in 1995.  In June, 2002 with the assistance of a 70 member Men on Mission construction team from Trussville, Alabama the church was once again blessed with the new building for ministry in the community. Other teams from Illinois, Delaware and Pennsylvania assisted with plumbing, electrical and brick work, as well as the help of members of First Baptist.   The first service was held in the new building on Middle Road on December 22, 2002.
Just 13 years later, through continuing evidence of God's faithfulness, grace and providence a monetary gift allowed them to pay off the debt. The church celebrated the "Mortgage Burning" with a video presentation of how they got to this point. Between verses of the song "Great Is Thy Faithfulness" were video messages from former member, Jim Childress, who served as chair of the building committee, various other church members, and former pastors Stephen Zahare and Jim Perkins. Gary Kampmann, the only remaining trustee who signed the original note, invited others who were instrumental in the project of the new building, Jere Hatler, Terry Hatler and Mike & Vicki Buescher to come forward as the note burning took place.
Using various scriptures on God's faithfulness, new pastor, Dr. Cory Gonyo, shared a message titled "God's Faithfulness, Our Freedom" about moving forward from this point. The services ended with the burning of the mortgage and the congregation standing around the sanctuary for a "Re-dedication Responsive Reading."
Dr. Gonyo has coined a phrase that church members have picked up on: "Here We Go." As the mortgage was burned someone said, "there it goes" and now "Here We Go" blessed with the freedom to do the ministry that God has planned for First Baptist Church in the community of Bettendorf. Praise be to God for His grace and blessings over these fifty plus years!
Share