First Baptist Church, constituted October 6, 1963 in Bettendorf, Iowa, celebrated their 50th year of Ministry in the Quad Cities region with an anniversary celebration on October 5 & 6th.   This monumental milestone drew a great response from members and staff, both current and former.
To kickoff the celebration a large display was constructed  to commemorate the 50 years of history including items collected from each decade, photographs, and a timeline chart  showing the activity and impact of the church over those 50 years.  Four video promotions featuring long-standing members as they shared their memories of First Baptist Church were created and were shown throughout the weeks leading up to the celebration.
The weekend of the anniversary celebration included a celebratory dinner and a commemorative service with multiple guest speakers, followed by a luncheon.  The dinner, held the evening of Saturday, October 5th received an overwhelming response.  Over 212 persons responded enthusiastically to join in on the celebration.  The guests in attendance included many past members, one charter member, former pastors, and association and BCI pastors.  The overwhelming support and response the church received was touching.
On Sunday, the celebration continued with a two hour service including messages from former pastors, worship, three baptisms, and concluded with a luncheon.  Guest speakers for the service included Retired Pastor Richard Lamborn and Former Pastor Ty Berry .  A luncheon was served after the service and a small group of individuals were recognized for their contribution to the church over the many years.  The church also recognized charter member, 80 year old Harold Jones , who travelled with his son Randy to join in the festivities.
WMU sold commemorative cookbooks with recipes submitted by current members.  Proceeds were donated to foreign, home and state missions.  The church's 50th Anniversary Committee also created and presented a book summarizing First Baptist
Church's biographical history to all attendees along with a bookmark as mementos of the event.
First Baptist Church in Bettendorf has experienced a great blessing with the support from so many.  We would like to thank the Baptist Convention of Iowa, The Great Rivers Association, our current and former members, and the community for their outpouring of love.  The Lord has blessed our church and we are honored to be a beacon of light into this community for Christ.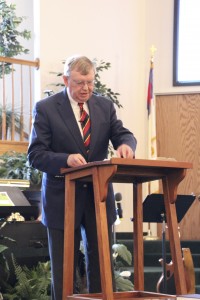 Jim Perkins, Pastor
Share