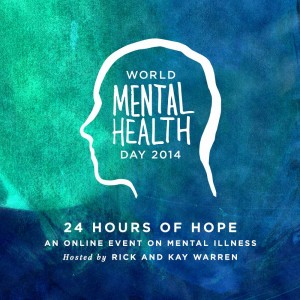 LAKE FOREST, Calif. (BP) — On World Mental Health Day, Oct. 10, Rick and Kay Warren of Saddleback Church in Lake Forest, Calif., will host "24 Hours of Hope," a free global online event to encourage individuals living with a mental illness; to educate and support their families; and equip church leaders for compassionate and effective mental health ministry.
The 24 Hours of Hope broadcast will feature messages to offer hope as well as practical tools for those living with depression, Bipolar Disorder, eating disorders, addictions, anxiety and Borderline Personality Disorder. Topics include removing stigma, suicide-risk reduction, church counseling, support groups, crisis management and holistic care.
The event will feature more than 30 speakers including Rick and Kay Warren; Kevin Vann, bishop of the Roman Catholic Diocese of Orange in California; John Townsend, a psychologist and author of more than 25 books; Daniel Amen, a physician and founder of Amen Clinics across America; Aaron Kheriaty, associate professor of psychiatry at the University of California Irvine; and Amy Simpson, author of "Troubled Minds: Mental Illness and the Church's Mission."
The Warrens' youngest son, Matthew, struggled with mental illness for most of his life before committing suicide in 2013. The Warrens have since dedicated themselves to raising awareness of mental illness, eliminating its stigma and encouraging faith communities to become safe and accepting places for people living with mental illness and their families.
To join 24 Hours of Hope, visit http://mentalhealthandthechurch.com.
Participants can discuss the event using #WorldMentalHealthDay.

Reprinted from Baptist Press (www.baptistpress.com), news service of the Southern Baptist Convention.
Share